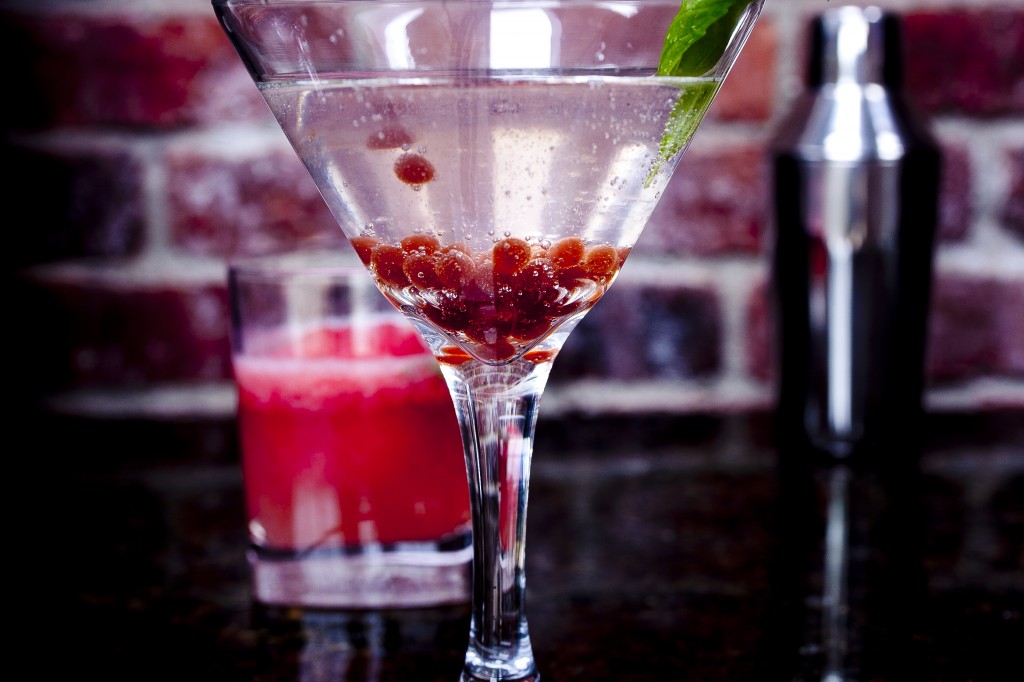 Last Thursday night I went to Irving Plaza for a 901 sponsored FreeSol concert. I got a glimpse of Justin Timberlake and watched the band rock out Irving Plaza. I sampled a few tequila drinks before and during the show. And after tasting the natural sweetness blue weber agave affords a margarita at the Sidebar, I sat down with 901 Tequila president Kevin Ruder to pick his brain about this new silver spirit.
I asked Kevin if he's visited Mexico with Justin Timberlake and if they've had a chance to meet the agave growers. Surprisingly they've visited Mexico several times, tasting various versions of the distilled agave before developing a unique flavor for 901. Check out JT's trip here. Tequila has always been JT's favorite drink so naturally he opted to create his own when he couldn't find a favorite after trying at least 300 varieties.
901 is a triple distilled spirit that deserved a little extraordinary attention. I first tried this tequila in a classic margarita. Then I tried it straight up in a shooter glass. My first pour was smooth and clear. It left lovely fruit notes lingering on my taste buds.
I took the muddled strawberry concept to the next level thinking about how much I dislike a watered-down version of the original cocktail (halfway through, when the ice starts to melt). So I opted to blend my fruit, and then turned it all into strawberry ice cubes. Next, I mixed the rest of the ingredients, which include home made sparkling lemonade (thanks to my new SodaStream machine), 901 tequilla. And then finally, I garnished the finished product with fresh basil and voila! a drink that only gets better the longer it sits.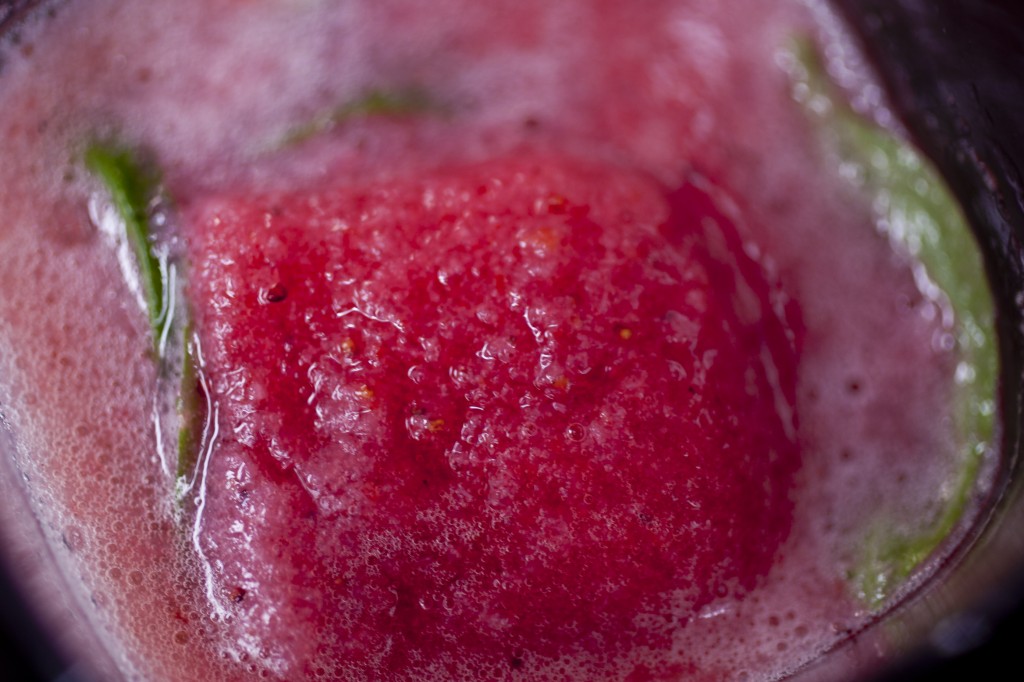 Strawberry Rock recipe:
Ingredients 
1 pound of strawberries
½ cup water
1 liter of home made sparkling lemonade
6 ounces of tequila
basil as garnish
Directions
In a blender, pulse strawberries with a few tablespoons of water at a time until mixture is smooth and creamy. Strain. Transfer mixture into ice cube trays and allow to freeze overnight.
Pour tequila and sparkling lemonade into a rocks glass. Stir. Add strawberry ice cube and garnish with basil. Allow cocktail to sit for a few minutes until ice starts to melt to fully enjoy the flavors of this drink. An occasional stir will enhance the flavor.
Next, I took the strawberry cocktail to the next level. This version I devoted to all you gastronomic geeks out there (I'm one of them!). I used lime instead of lemons, clarified it with some agar to make it crystal clear without losing any flavor.
A straight up version of strawberry purée didn't work the first time around. It was too acidic and too thick, so I watered it down using a ratio of 1/3 water to strawberries, and then added balsamic vinegar and honey to sweeten it up. You can also use simple syrup, or even better, just more tequila.
To that mix I added xanthan gum and calcium gluconate. I waited a day, and then dropped the happy mixture into a sodium alginate bath, rinsed the pebbles in a water bath and finally they were immersed into the cocktail!
My mission was to create a unique and subtle cocktail that looks nice and is fun and exciting to drink. So there you have it: my Strawberry Bomb cocktail made with tequila, clarified lime juice, home made carbonated water, simple syrup, and faux caviar strawberries with balsamic vinegar. Next time you're entertaining at home, whip this out and you'll be sure to get some brownie points from your buddies. Enjoy!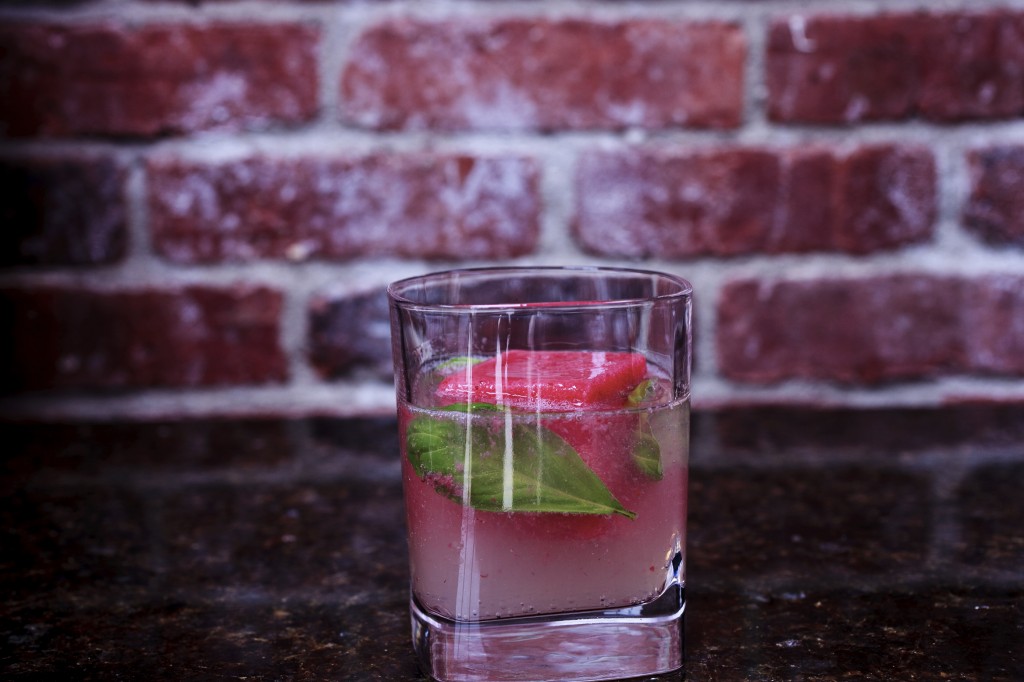 Strawberry Bomb recipe:
For the reverse spherification, I went online and used Bob Stanton's recipe.
For the lime clarification, I used Dave Arnold's Agar Clarification Made Stupid-Simple technique found here.
Ingredients
1 pound fresh strawberries, blended, strained
½ cup water
2 tablespoons balsamic vinegar
4 tablespoons honey
1 teaspoon xanthan gum
1 tablespoon plus 1 teaspoon calcium gluconate
2 teaspoons sodium alginate and 500ml water (about two cups)
500ml water for water bath
12 limes, juiced and clarified with 1 teaspoon of agar (about 1.5 cups of clarified lime juice)
½ cup simple syrup
1 liter carbonated water
6 ounces of tequila
2 bunches of basil
Other tools and gadgets recommended
Blender
Cheesecloth
Strainer
Plastic tube bottle or syringe
Mixing bowls
Ice
Small saucepan to boil agar solution
Directions
In a blender, pulse strawberries with water, balsamic vinegar, honey, xanthan gum and calcium gluconate for about a minute. Strain and pour into a squeeze tube bottle and refrigerate overnight.
Juice limes, strain. Boil 1/3 of liquid about 250ml (1 cup) with agar on the stovetop.
Mix with refrigerated agar to bring to room temp. Place over an ice bath and allow agar to jelly up. Break agar curds with a spatula. Place over strainer with cheesecloth beneath and gently massage mixture. Your resulting liquid should be crystal clear. Add simple syrup to the clarified lime juice. Carbonate water, add lime syrup.
Whisk in sodium alginate with water, strain and allow to sit for about 30 minutes. Drop strawberry liquid into sodium alginate bath. Allow to sit for about 2 minutes, transfer to water bath using a slotted spoon. In a martini shaker, pour 1 ½ ounces tequila, 2 tablespoons of lime juice, 1 1/2 ounces carbonated water and 1 ounce of simple syrup. Shake in martini shaker with ice. Using a slotted spoon, scoop out strawberry caviar and place into drink.
Pour into martini glass. Add strawberry balsamic caviar. Garnish with basil, and enjoy!.