Being Korean born and growing up in the US was aberrant when the timely holidays rolled in. Korean holidays are virtually desolate here. My initial Thanksgiving culinary traditions began at fourteen years of age, with the help of a Betty Crocker cookbook purchased at Woolworth's in Flushing, Queens.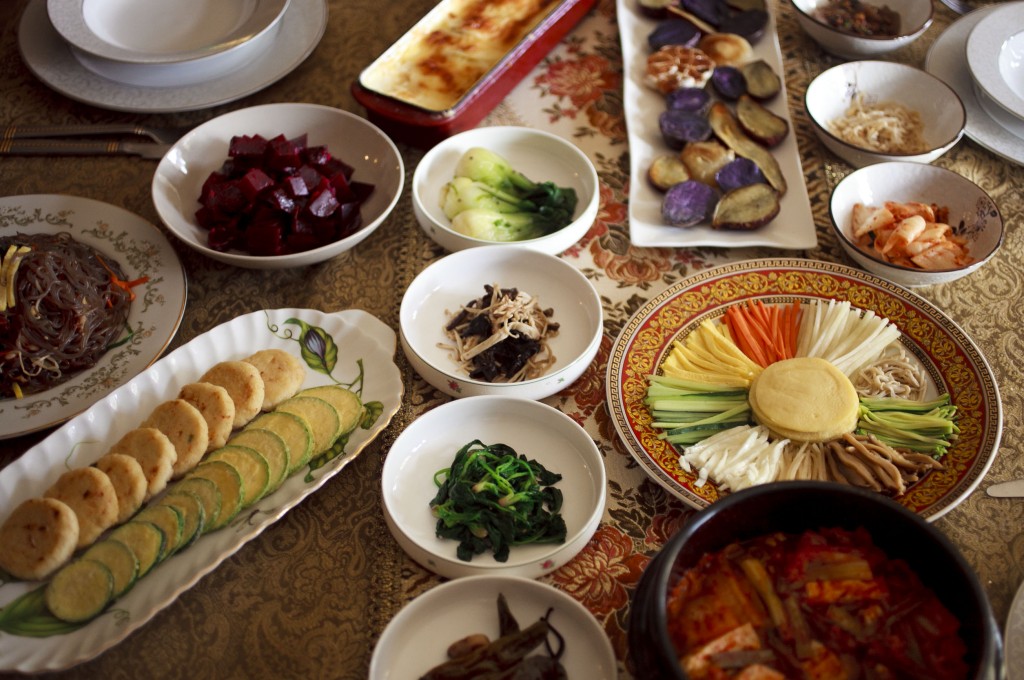 I cooked my first holiday dinner for my parents, aunt, uncle, and cousins. The dishes served were mashed potatoes with gravy, buttermilk biscuits, and stuffed turkey.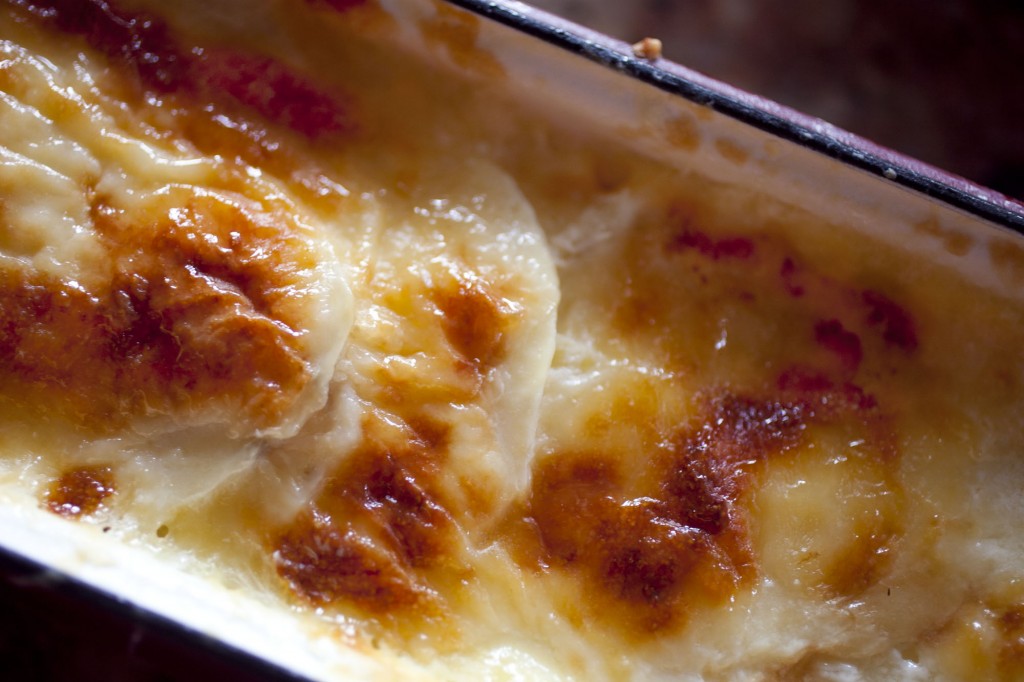 Here's my grownup version of mashed potatoes: Potato gratin. Looking back, I can't recall serving any green vegetables that year. The tradition continued well into my twenties, where I explored traditional American holiday foods married with my Korean heritage which translated as kimchi on the side.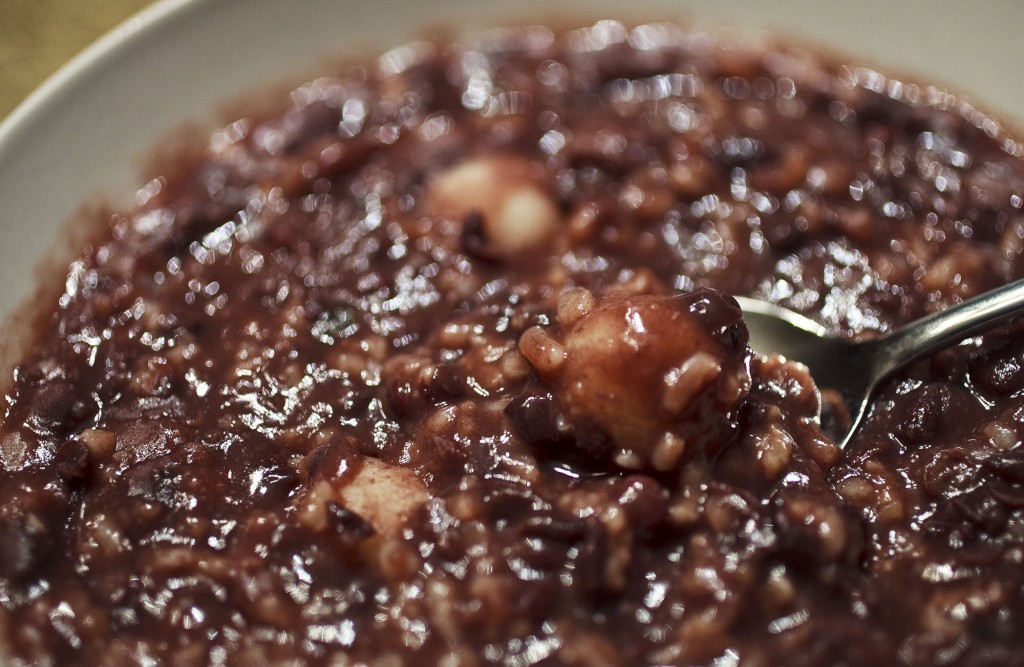 Patjuk is typically served as a Winter solstice food in Korea (one of very few major Korean holidays).
When I eventually married an Italian American, an entire continent of food emerged and I finally discovered how to enjoy seasonal dishes which included lots of fresh local tomatoes, fresh herbs, and really good cheese. I learned how to adjust my salt in salads according to the season, and pasta went far beyond spaghetti and meatballs. I became versed in fixing up marinara sauce discerning contrasting characteristics between marinara and Sunday sauce. Lasagna had been discovered long before the marriage of two cultures- (I have to credit myself for having perfected it thanks to a handy old copy of a NY Times cookbook I picked up from the Piermont library when I was a teen). In short, I spent the last six years exploring this new and exciting cuisine, discovering porcini mushrooms, risotto, cavetelli, pesto, and an endless repertoire of recipes from family members and cookbooks. I finally began cooking the green vegetables during this time. Our typical holidays included a marriage (literal) of Koreans and Italians. Whether it was Easter, Thanksgiving, or Christmas. It was Italian food with kimchi as its co-star.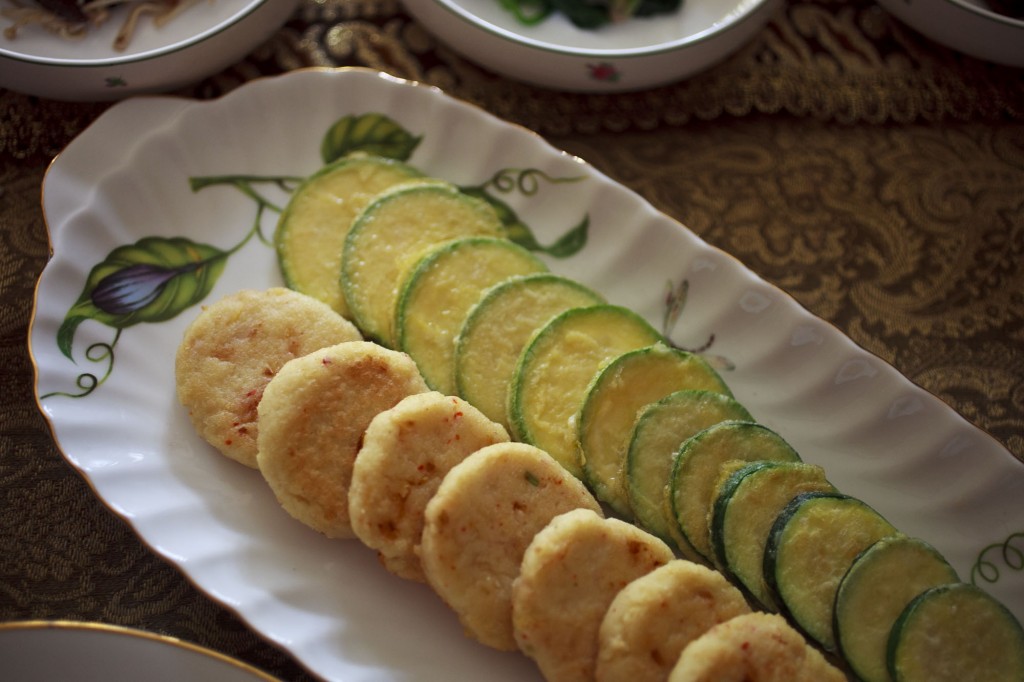 Kimchi & soy pajeon, zucchini pajeon.
Cooking Korean food at home meant, there was much tweaking which led to the creation of newly adapted dishes for my big Italian family. I eventually became so involved in cooking that spending six hours in the kitchen seemed conventional and acceptable. To outsiders, it may have looked like I was absolutely manic about food- that's because I was! I loved food so much that I enrolled into culinary school to really hone my kitchen skills and became a professional chef.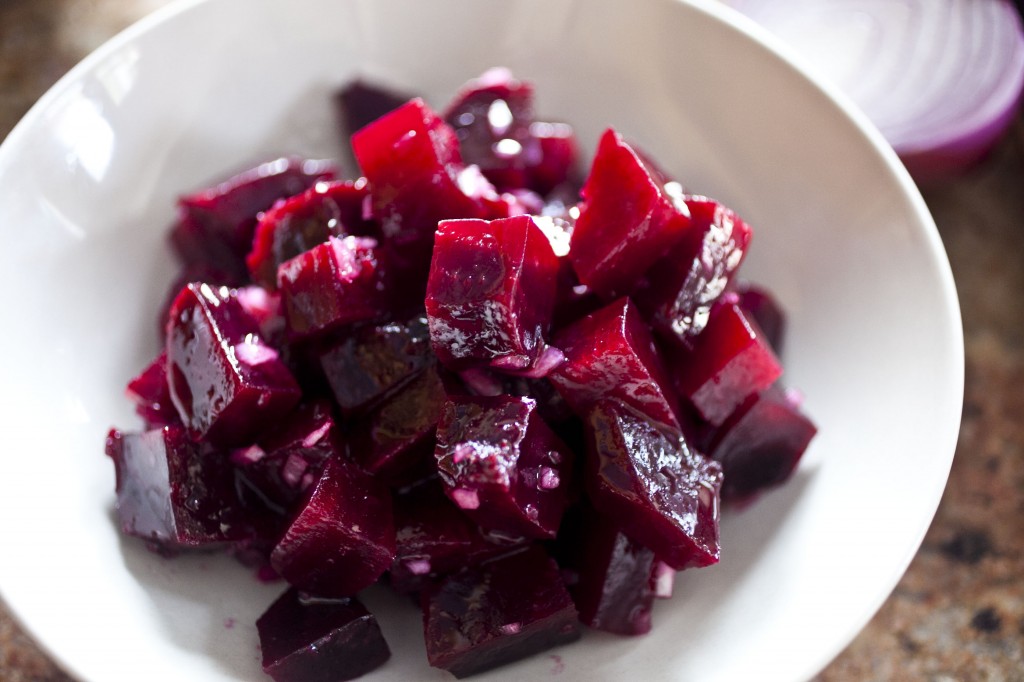 Roasted beets with red onion and champagne vinaigrette.
Last year, I discovered Meatless Monday and when I was asked to submit a holiday post for Food2.com, I ventured into my old handy Betty Crocker cookbook for advise and cooked up American classics with a twist. It was the beginning of a year-long relationship with seasonal vegetables. Here's a seasonal roasted root vegetables dish: (purple potatoes, heirloom sweet potato, chippolini onions, garlic) below: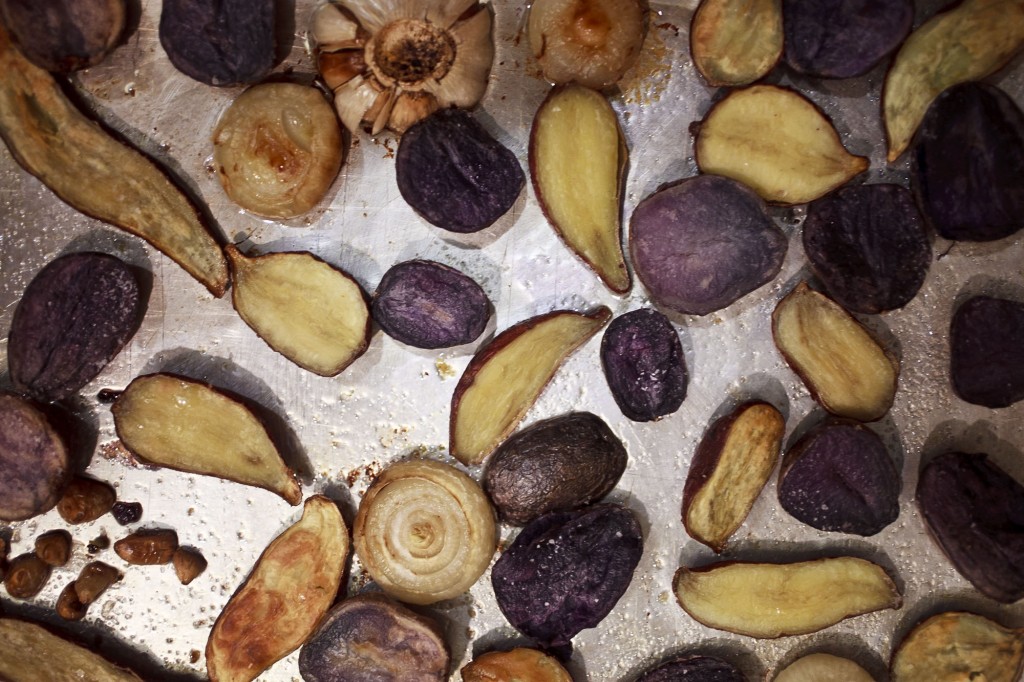 This holiday season celebrates my one-year anniversary with going Meatless one day a week! I cooked up a Christmas dinner starring Korean food served up as the Feast of the Seven Veggies! It's my Korean version of the classic Italian Christmas Eve supper. Christmas for Koreans has become more popularized in recent years and they have a special name for it (seongtanjeol). I made seven main dishes, with matching seven side dishes (banchan) for this special occasion. Some traditional recipes originated from the Royal kitchens of the Joseon Dynasty in Korea. It was a labor of love- the nine delicacies in Gujeolpan were  a tad bit time consuming.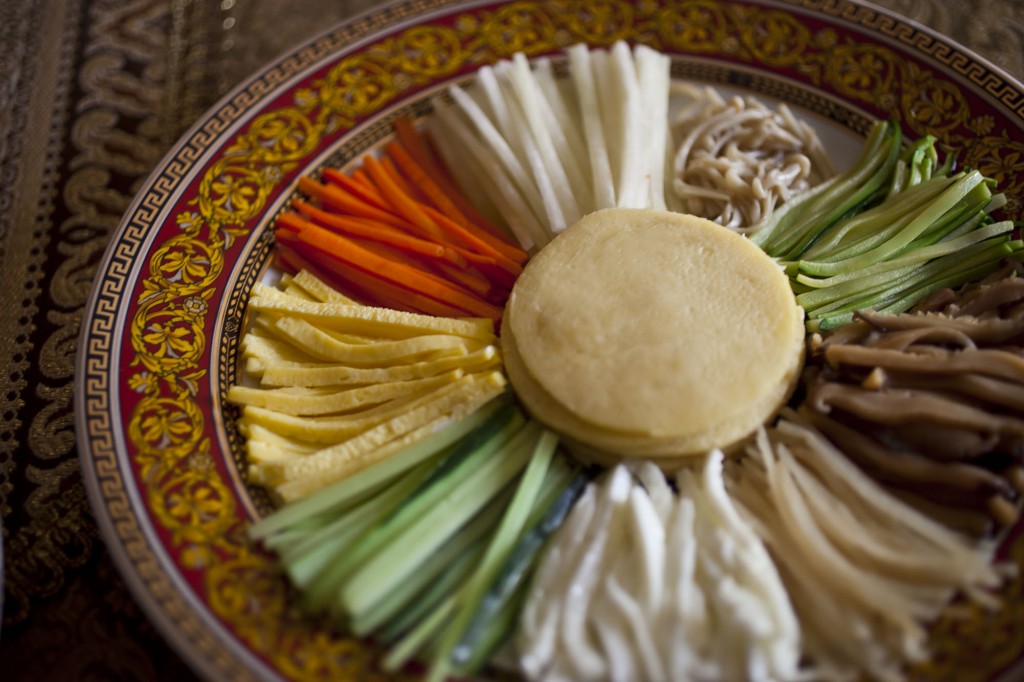 I suggest if you're going to try this at home, give yourself a few days to make the dinner. Start with Gujeolpan, use the leftover veggies to make japchae, cook your vegetables ahead of time and marinade and dress them right before consumption.  When the feast is finished, you can have the leftover banchan in a mixed rice bowl (bibimbap) the following day.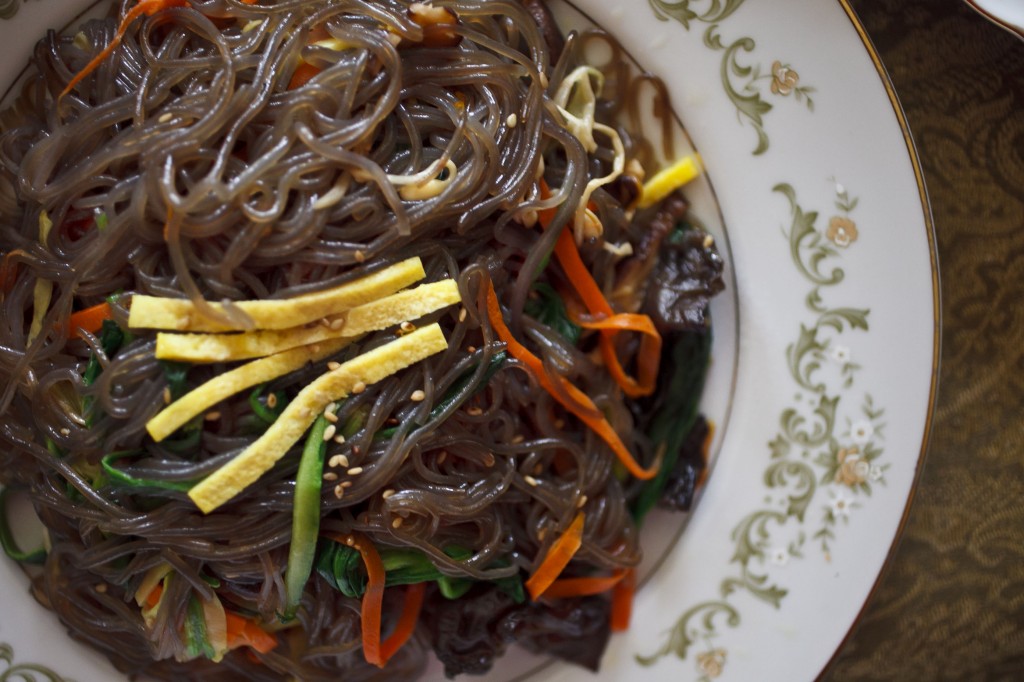 No dinner is ever complete without a hot spicy soup at the end! Spicy tofu soups and stews are an absolute food staple made with gochugaru, tofu, and garlic, this version includes kimchi.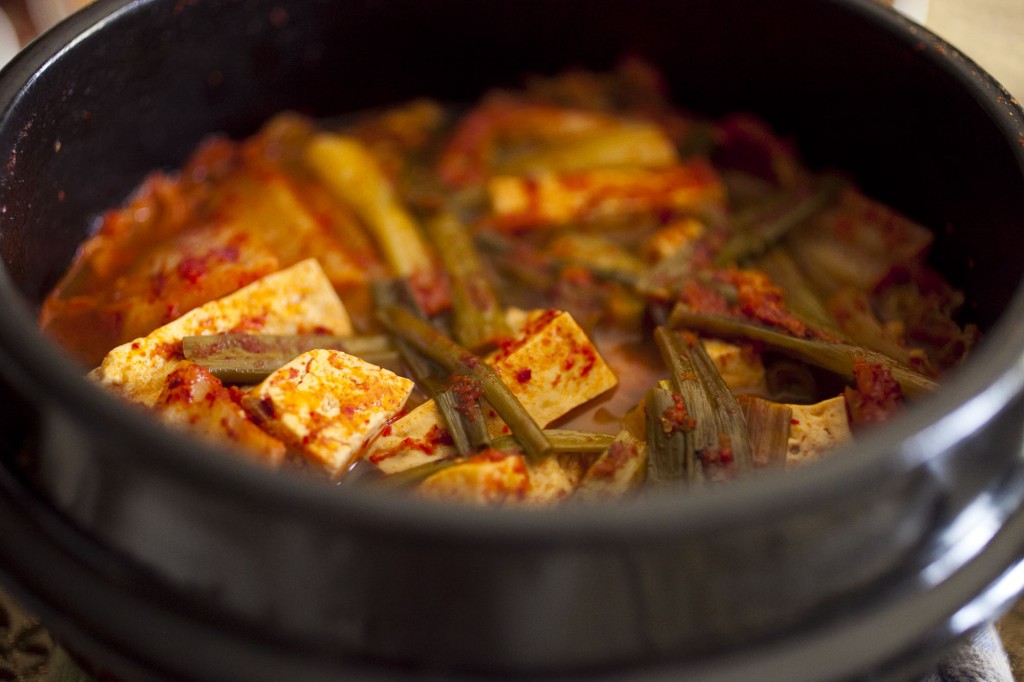 Here are the seven Korean style side dishes I made!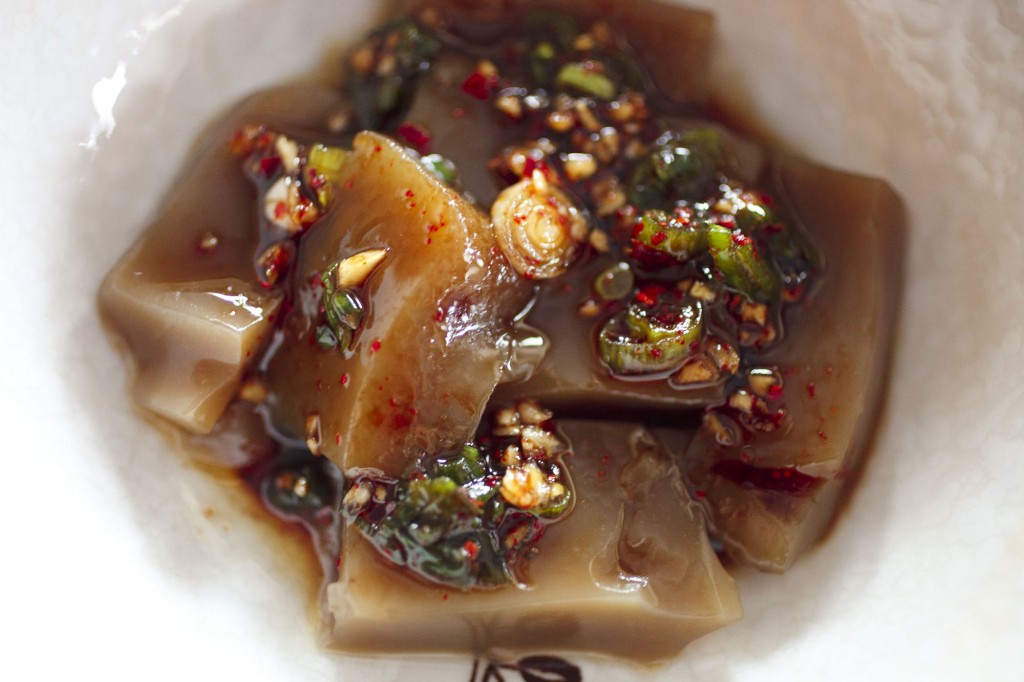 Acorn Starch Jelly…looks like jello, sort of tastes like jello- except it's 100% vegan!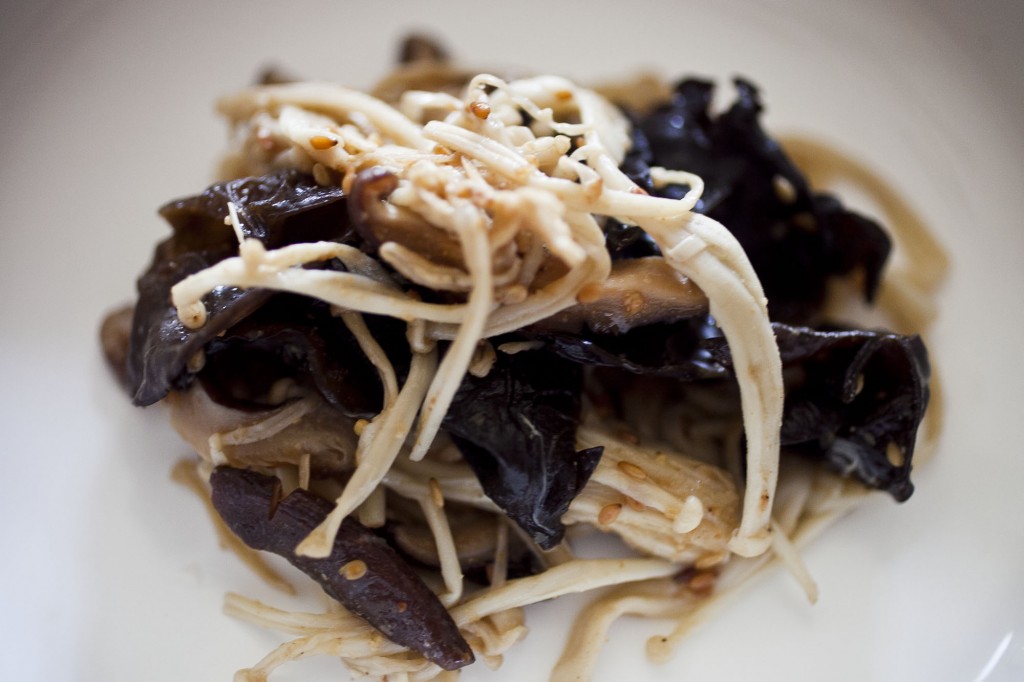 Assorted mushrooms with crushed sesame seeds…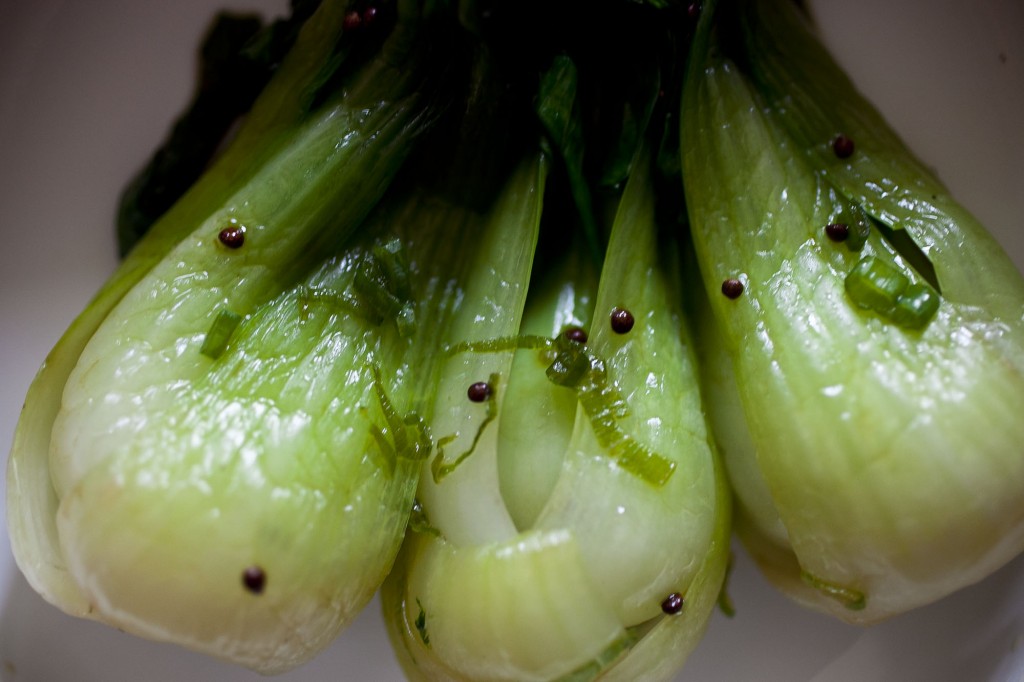 Baby Bok Choy with perilla seeds and sesame oil…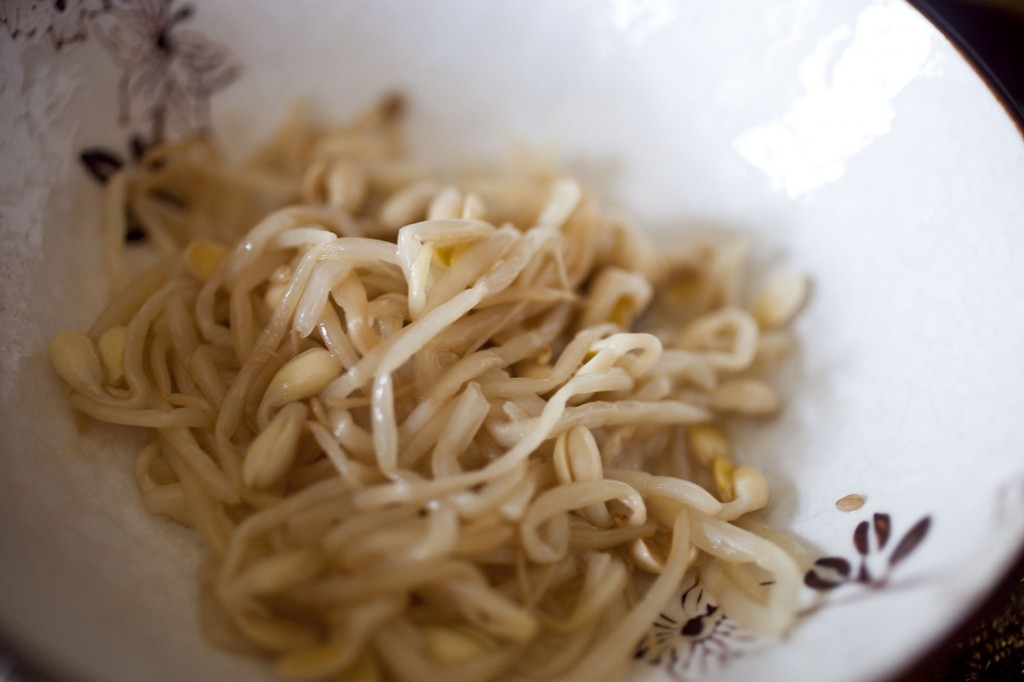 Mung bean sprouts…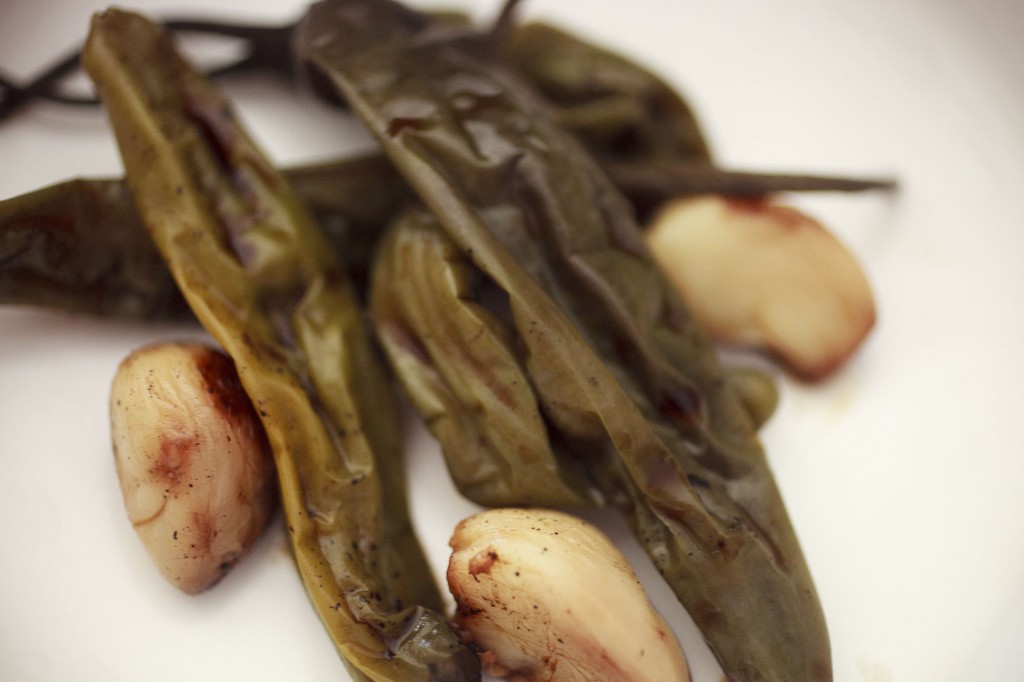 Braised Korean peppers with garlic…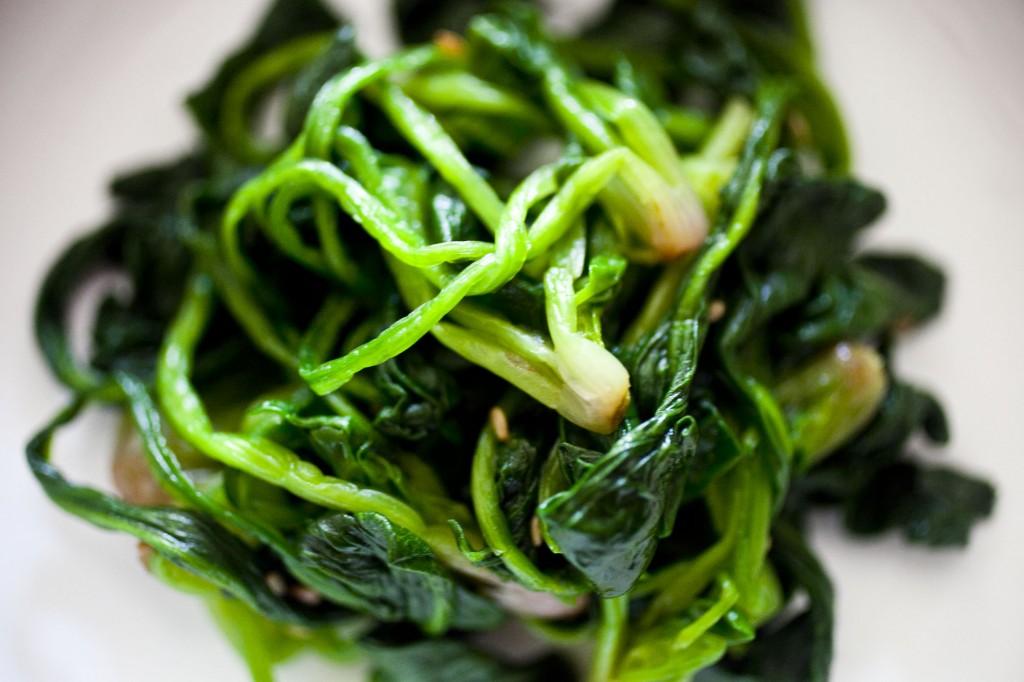 Marinated spinach…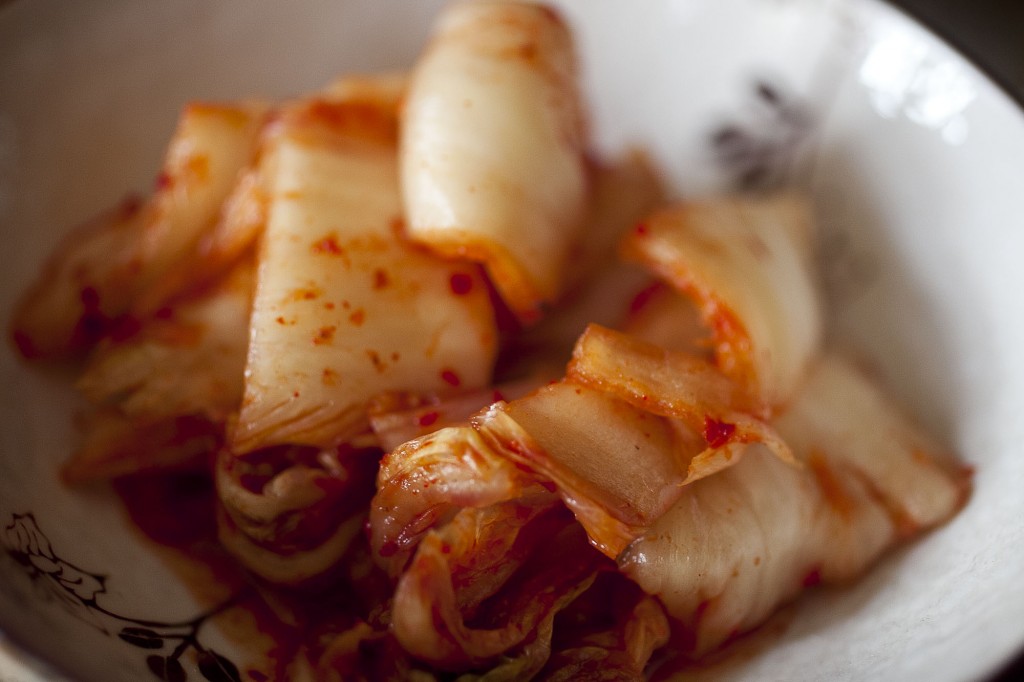 What kind of Korean meal is complete without kimchi?! None!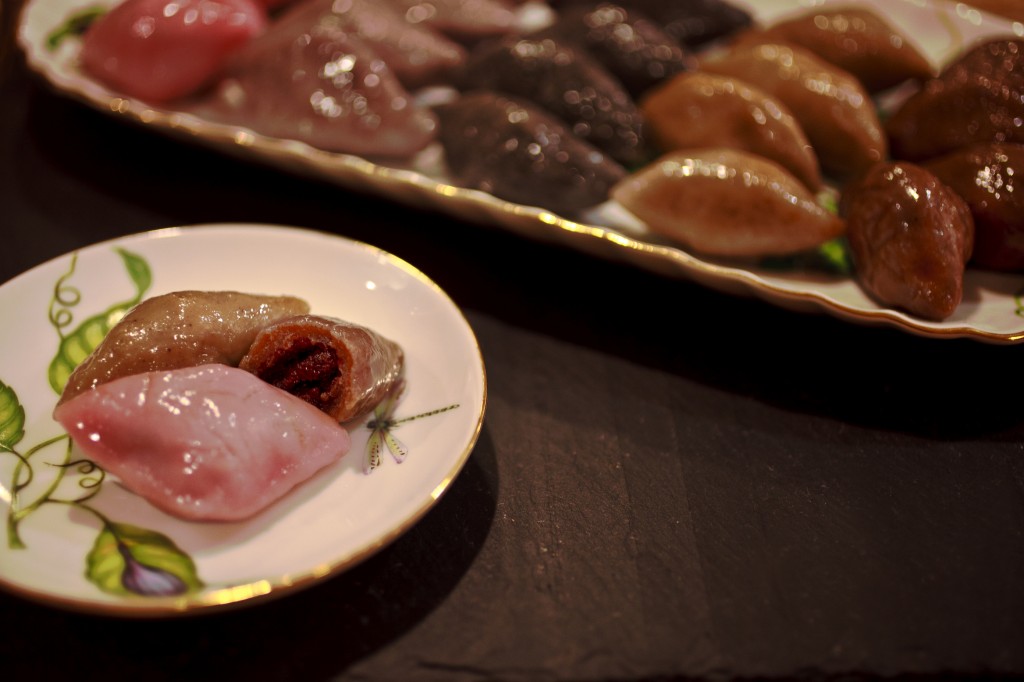 For dessert, I made Songpyeon. A sweet and savory rice cake. It's typically served up during Chuseok (Korean Thanksgiving according to the Lunar calendar). I'm currently working on finishing up a round up of all the dishes I've conjured up this past year for a vegetarian cookbook! Recipes are coming shortly, stay tuned…