The Food Chain Goes Beyond Professional Kitchens
May 1, 2011
Food styling work is similar to working in a professional kitchen. If you're an aspiring stylist you better be prepared to deal with the same process of ordering, cleaning, organizing the refrigerator, mise en place, working quickly and efficiently. If you can't do this or think it may be too much to work 10-12 hour days, than this is not for you. Turn away now and find something else to do.
On the set, you'll be expected to do all this and wash the dishes at the same time. There's no such thing as a dishwasher budget. Loading and unloading equipment on and off site is part of the job description. And when you're starting out, you are not going to be the chef. You will most likely trail the first assistant stylist, or as restaurants may refer as sous chefs.
My first styling gig was working on Kitchendaily's Pantry Project starring Gail Simmons. The crew ranged from culinary, to lighting, cameras, producers, makeup artists, wardrobe, PA's. I worked as the second assistant stylist and my tasks included picking herbs, organizing the fridge, washing dishes, until I proved my competence in the kitchen and the stylist allowed me to cook off a few recipes for the stills while prepping out a duplicate copy of the mise en place for the on camera demo. From there I worked on a Smuckers advertisement where the food we made was product driven showcasing less of the culinary expertise but rather set styling with props and products. I left that set with cases of penut butter that should suffice a year's supply of P&J sandwiches.
A few other styling jobs welcomed me as the assistant stylist for the Tasting Table sous chef series. I got a chance to work with James Tracey, the chef de cuisine at Craft as we taped one recipe for an entire day. Not that much work in the back end but swapping out five versions of roasted chicken in various stages including every ingredient was a juggling act since none of the cooking steps you see in a television or video production is filmed in order. A few weeks later I got called back for another Sous Chef video featuring Chris Bradley.
I recently worked on two jobs back to back, one for a product driven website featuring store brands and the second for an educational series featuring a Jamika Pessoa who appeared in Season 5 of the Next Food Network Star.
It was on the first job that I truly proved myself and went from being one of four assistants to the first assistant stylist by the end of our three-day production. The natural progression of a food stylist starts off at the bottom, you will be the first, second, third, etc stylist depending on the size of your team. After becoming a first assistant stylist for a while, the next step will be to work as the lead stylist and then culinary producer.
I woke up at 5:00am every day we were in production and arrived on the set at 8:00am. A very good call time as other jobs required arriving on the set at 3:30am. I didn't sleep the night before the Smuckers production as the evening courses at FCI had me leaving the campus past 11:00pm. Considering I live about an hour away- that left no time to sleep, not even for a minute. I contemplated sleeping in the car and going to work four hours later. It's not as glamorous as many believe it to be. When you're working behind the scenes for any television or print media production it requires diligence, organization, and fast execution skills. You're not just answering to the lead stylist but rather an entire team of producers, directors, clients.
A few months ago I got a chance to visit the Food Network production studios inside the Chelsea Market. I have to admit that it was their channel that drew me into enrolling at FCI. I watched food shows for the past five years and never missed a season of Iron Chef. I wanted to learn how to sous vide and play with liquid nitrogen too. And then I saw the advertisement featuring Mario Batali who graduated from the French Culinary Institute. I called the 800 number the next day to go on a tour and at first sight of the FCI kitchens, I was hooked. I knew that's what I wanted to do.
 ***
Potluck Dinners and Beyond
April 10, 2011
The usual suspects arrived one at a time bringing with them a dish, some were store bought or lovingly made at home. In my case, I prepped the mise en place and assembled the ingredients on site. I didn't have the nerve to dress my salad ahead of time and risk the chance of ruining it.
Niki, Sally, Mami, Ling, Carolyne, Geena, and Mariko joined the potluck dinner served atop of Niki's kitchen island as we gathered around to dig in.
The following day I ventured off to a local Spanish restaurant for lunch and ordered the seafood paella and a T-bone steak.
Joining a crew of Korean New Yorkers at Miss Korea BBQ on Thursday night where we had the spicy octopus starter with rice cakes before firing up the tabletop grill with marinated short ribs and pork belly. The evening ended with more soju, a tofu and kimchi hotpot and sampling the loreal 16-hour lipstick.
I ventured off to a restaurant opening at Walleys and met the executive chef of Delicatessen. We arrived at seven and a few hours later contemplated on going elsewhere as the taster portions left us starving by nine and luckily for us, we were invited to fill our appetites at Deli by chef Mike. Mac and cheese, fried chicken parts, tuna tartar, and cocktails made us smile.
This week started off behind the lines. I trailed at Bar Baloud and left with job offers. I'll have to weigh out the pros and cons to working full time in a busy place. The classic French style kitchen that appears far bigger than most establishments with only 80 seats in front of the house, they could easily have equal amounts of cooks in the back end. I was impressed to say the least. I finally got a chance to meet with Battman from Chef's Connection and looks like I'll be bopping around the city interviewing chefs in whites.
***
A Mini Restaurant Week
March 22, 2011
This past week could have been a miniature version of restaurant week. Limited time led me to spend the entire week venturing in New York for large gatherings with an exquisite selection of the most cultured groups at the dining table no less. Not to mention an evening of judging the midterm at FCI.
Monday started out as I cooked home meals for the family. I managed to scramble a few recipes here and there, mostly for the demanding little gourmands who know the difference between vanilla extract and Madagascar vanilla beans. I'm forever a slave to my two sons whose developing palettes inspire new recipes and re-mastering of the classics. Rice pudding was served every night and not sparing a few sessions of afternoon tea with the boys in their miniature dining room. The chairs are a bit small as I often sway my big foot legs (compared to the two and four year old).
We finally visited Mt. Fuji Japanese Steakhouse in Hillburn, NY off the thruway for a little bit of Japan nearby. The Habachi steak house has been established since the hay days of the Tiki Bar craze. Not much seemingly changed since the opening, including the menu. Our mushroom soup couldn't be more Americanized, dried shitake mushrooms in a clear broth served by the kimono wearing happy waitress. The salad arrived with a choice of ginger, Italian, French, or Ranch dressing. The fried rice and noodles are similar to those found at other Habachi restaurants. The filet mignon cut hardly resembled a prime cut of meat and the vegetables were a mere handful of cabbage, broccoli, and zucchini cooked with vegetable oil and butter with soy sauce. I wouldn't say you get your money's worth at Mt. Fuji, however the live cook-off seemed to satisfy the little elves who loved the experience. I did appreciate the efforts in décor, the waiting room had two cow sculptures from the cow parade with price tags in the tens of thousands.
The following day I visited Portobello Feasts, a family owned restaurant in NJ. Alex and I had lunch there and I ordered the Polenta. I would say the polenta was rather plain and could have used a hint of milk, butter, and shallots- but that's the French Gourmand speaking here. It's not my place nor do I run the kitchen there.
On Friday, celebrating a friend's birthday at Michael Bao's Covet on East 55th Street. Shen Meng's birthday organized by her husband who flew into town from Beijing before returning home to set up the next art exhibit at Longmarch Gallery. The cultural council of China joined the birthday party along with familiar friends, Christopher Lee, Sally Wu and Niki Cheng. We shared a family style entrees in the doubles and triples as more guests joined later on. Cutter fish, steak, duck, pork belly, whole seabass, fried rice, and a chestnut birthday cake finished the evening.
Saturday was a relaxing day, as we ventured off to find raw milk in NYS, but made a detour into Panera that afternoon. By the time we were back in the car, the gourmand elves fell asleep for nap-time with the fairies and I drove back home. We had grilled chicken with cole slaw before ending the night with more rice pudding. Our egg supply being completely depleted, I used the handy egg substitute for the ritualistic rice pudding which turned out just fine, but not quite as creamy.
A Sunday afternoon at Dim Sum Go-Go, a few weeks to go before we'll be saying good-bye to the beloved weekend brunch that's affordable and charming. We sat at three tables, where museum curators, directors, art dealers sat in one, Top Chefs at another and pretty people sat by Supermodel Ling. My little gourmand Daniel had his first dim sum experience and begged me afterwards to bring him back.
We shopped for tomorrow's supplies at H-mart in Englewood before returning home to cook dinner for the family. I carried out quail eggs, radish sprouts, ginger, fish, fresh crabs, and the Brazilian mango juice was a hit. Can't beat the price of 18 quail eggs for $3.00 at H-Mart! Mango juice is on sale this week at 2 for $2.50. For dinner we had fish, seaweed and rice, toasted anchovies, mussels with marinara sauce with thin spaghetti.
***
Judging the Midterm at FCI
March 17, 2011
The grass always seems greener on the other side of the fence. Last week I received a message from a Belgium Chef instructor at the French Culinary Institute inviting me to join a crew of six judges to dissect the works of Level 3 students during their midterm. Yet another offer I couldn't refuse and found peculiarly pleasing to finally consent drinking the glass of wine whilst sitting through a four-course meal within school grounds. How could I say no to this?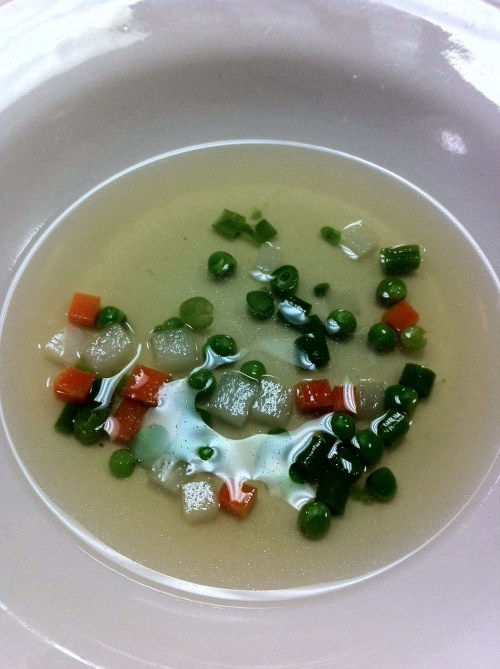 The first course arrived in the traditional manner consommé is served-garniture in a hot bowl with underlining plate and the clarified broth served at table-side. No points were deducted for style of service. However the vegetables were inconsistent on the most part. Some were over cooked while others were al dente, varying in size that factored into uneven cooking. Emily and I surprised the other judges as we meticulously dissected the ingredients during the evaluation. Points were taken off for inconsistency in taillage, over cooked or under, color, plating techniques, and temperature. At one point discussing if perhaps we were being over critical of the student work. Alas, a gem appeared who stood out from the rest and any doubts of unfair judgement subsided.
Tempted to finish my initial skate fish, I thought to leave room for the remaining three versions no less. Afterall I had near a dozen plates to try before the night was over. My unfinished poussin course rotated around the table for others to try in the bread kitchen, where judging took place. The perfect skate raised the stakes and unfortunately for the remaining students, they had much to live up to.
The first student presenting a bœuf bourguignon dismissed plating a crucial ingredient-the noodles. Points fiercely came off their charts. The second had over cooked one side of the crouton and it was burned so naturally I didn't care to taste it. Although the meat was tender, it missed a mark in my taste buds. A little salt can go a long way indeed. The final version delivered a perfect crouton immersed in parsley on the broader end. The correct number of garniture ratio and the sauce held a correct consistency. A little wipe here and there could have earned this one a perfect score.
I was beginning to realize why chefs invented trails in kitchens. After seeing the results tonight, I would only hire a handful of the students if I had a fine dining restaurant. Preferring those who remembered to season the final sauce, presenting polished, hot plates and delivering on time. There's a reason why establishments such as Le Bernardin and Daniel require four-months on the waiting list before granting a trail in their kitchens.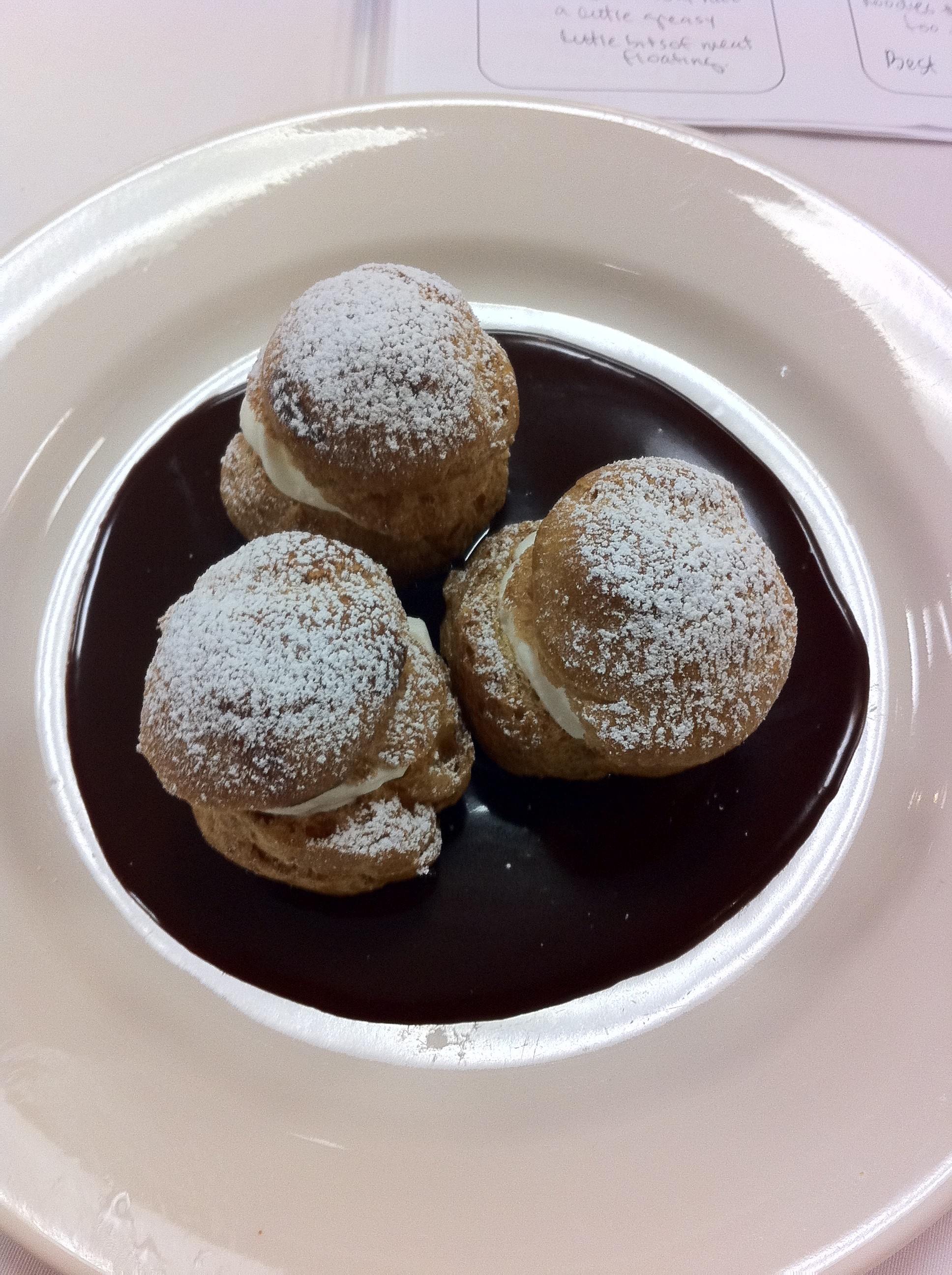 I'm not the biggest fan of pate choux and could have exploded by the time dessert arrived. I managed to finish the chantilly crème in the first round. Although the chocolate was rather cold and over sauced on my plate. The remaining presentations seemed mediocre. I understand the difficulty of the students having to create two dishes and this was after all their midterm exam. Nostalgia began to fill me and I began to recount the day I took mine.
By the end of the evening students gathered around our table as Chef Alain instructed us to provide a summarized critique of their work. A bit off the standard one-on-one criticism we were accustomed to at FCI, no less. I felt disappointed to never conclude why the noodles were missing on my bœuf bourguignon. My word of advise to the students: "take a minute to look over your plates, make sure you have all the elements there. I noticed some came in a minute early yet forgot essential plating garnishes, you should have spent the extra minute refining your presentations". Chef Veronica, whose ghostly voice seemed to ring in my ear throughout the night as I couldn't help but channel her energy during my final words.
***
Miles of Bread
March 17, 2011
I often venture out to the factory when in the mood for warm bread. I've been coming here since my teenage years and not that much has changed since my first impression. Rockland Bakery is considered to be one of the top bread suppliers in the tri-state area. Still a family run business, started by the grandfather of course- and an immigrant no less.
My two year old wingman accompanied me on this trip and he picked a few rolls, bagels, and a baguette before we tallied up the purchases. I drove home with 4 oven fresh bagels (two of which we enjoyed driving back), 2 baguettes, 2 olive rolls, 2 challah rolls, 12 hamburger buns, and a package of restaurant quality whole wheat sandwich bread, all for about 11.00 dollars-not bad for the bread splurge.
Though not exactly the kind of crème de la crème bread produced at Bouley or Amy's Bakery- however it's affordable and the kids seem to enjoy walking through the bread factory. A little bit of nostalgia seems to exist there reminding me of Willy Wonka except we were swimming through rolls instead. I would give them 3 out of 5 stars.
Rockland Bakery
94 Demarest Mill Road West Nanuet, NY 10954
Tel: (845) 623-5800
***
Zang Toi Woos Fate with Lucky Fried Chicken Night
Report, Photos and Illustration by Rina Oh
Originally posted on February 15, 2011 | Short Order insatiable-critic.com
Forget about Turbot Souffle and Mosaic of Capon. That's what fashion darling Zang Toi orders at Daniel on carefree nights. He favors the four-star pseudo Marie Antoinette décor and haute cuisine. But the night before launching the new collection belongs to the classic American bird from Kentucky Fried Chicken on West 34th Street, no less.
If Zang could play an instrument, he could be the Malaysian Amadeus Mozart, and his muses would serve bottomless Champagne joined by truffles in their flesh sucking corsets with bosoms bulging. His patrons are high fashion socialites of New York and reality-show housewives whose fashion expense accounts average a whopping $300,000 per season.
There they were Saturday at 7 p.m. after the last rehearsal, joining the exhausted show room crew: muses, buyers, backers, mannequins, Birkin bags on one arm, spearing chicken parts with the other, in the designer's near sacred ritual: Zang's Lucky Chicken Night It began in 1991 on the eve of the Mouton-Cadet Young Designers Award finale. Zang, an ambitious and driven designer, could barely afford dining out. His House of Toi consisted of himself, an assistant and the seamstress. He gave the seamstress some cash to fetch dinner. She returned with carryout fried chicken. The next day, he won the competition and it become essential to have fried chicken the night before any fashion show. Now his staff sets up "Zang's Lucky Chicken Night," in a famil-style show room buffer. This year his office boy DyDy picked up 230 pieces of chicken, and tubs of biscuits, corn and cole slaw.
Vegetarians seem to consider it a night outside of their normal reality. Last year, a supposed vegetarian buyer from an unnamed department store ate half a chicken. Word quickly spread in fashion circuits. Lean-and-long, the models stood quietly in corners, licking teaspoons filled with mashed potatoes, debating over a final drumstick. A crumble or two of red velvet cake was irresistible. No one seemed anxious about zipping up the next day.
Zang, a fan of home cooking too, is compiling his favorite recipes for a cookbook with an expected release date in 2013. Are you surprised?
***
Goffle Road Poultry
March 9, 2011
The last two days were filled with organic chicken dinners thanks to the little family owned Goffle Road Poultry store in Wyckoff, NJ. I discovered this walk in shop a few years ago through the recommendation of locals. I've previously ordered Japanese Silky chickens, known in Asian cuisine for its healing medicinal benefits to pregnant and menopausal women.
Yesterday afternoon I stopped by and ordered two fresh killed chickens along with six chicken sausages before returning home to conjure up my Roasted Chicken with Yama Sweet Potatoes, Carrots, and Onions recipe. Three of the sausages were sweet and the remaining filled with hints of spicy pepper. I've tried both on several occasions and usually barbeque the sausage. Since the weather is not yet permitting, I poached the poulet boudin and seared it tonight.
Below is the recipe for dinner prepared this evening, Chicken Boudin and Lentils with Braised Korean Hot Peppers. The total preparation and cooking time is under an hour. I highly recommend buying poultry and other meats from local sustainable farmers. Along with chicken, the Goffle Road Poultry store offers fresh killed turkeys for T-day  and specialty game meats, home made sausages, organic chicken eggs along with local sustainable honey and other dry goods. The total price of two whole chickens and six sausage links cost me a little over $20.00 dollars.
Goffle Road Poultry 549 Goffle Road Wyckoff, NJ 07481
Tel: (201) 444-3238
***
A 690 Calorie Luncheon for the Gourmand
March 5, 2011
Tuscan, Arizona could certainly be one of the future go-to destinations for a week-long getaway. We briefly discussed planning a ladies' trip out west for some pampering and rejuvenation which is much desired these days. A few days ago I had the pleasure of attending an exclusive luncheon organized by Canyon Ranch. Maria Bartiromo and Richard H. Carmona, the 17th Surgeon General of the United States hosted the private event. We were escorted into a lofty event space where the décor hinted a bit of Martha's influence.
Upon entering the sunlit private room we handed the outerwear supervisor our coats then received our place cards with poise and sipped on ginger tea before finding our table. A Canyon Ranch representative was strategically placed to dine with guests at each of the nine tables, including ours.
The first course arrived in a shooter style trio of vegetable soups and I couldn't refuse a glass of white wine to accompany the starter. The fresh heart of palm salad reminded me of my menu project course of scallop and quail egg. Microgreens and citrus vinaigrette are a marriage of good relations in my book of taste.
The main entrée excluded those sinful carbs when replaced by sesame chick-pea puree beneath perfectly cooked Chilean sea bass and wilted greens. The happy fish and beans were served with grapefruit segments in a light citrus vinaigrette.
I thought to refuse the chocolate cake at this point however, Fern Mallis didn't seem to mind the calories and a split second decision was made after seeing her finish the cake. Or at least I suppose she did. I wasn't looking in fact, being too consumed to finish mine, all except for a raspberry left at the end.
Niki nor I won the raffle ticket for an all inclusive four night stay at the Canyon Ranch in Tuscan AZ. Our goodie bags were stuffed with spa essentials and a cookbook was later discovered. The home made trail mix turned out to be quite a hit with the two year old back at home the following day, thanks to the efforts of Canyon Ranch corporate chef Scott Uehlein who planned our delectable tasting and co-authored Canyon Ranch Nourish, indulgently healthy cuisine.
For reservations at Canyon Ranch properties call 800-742-9000
***