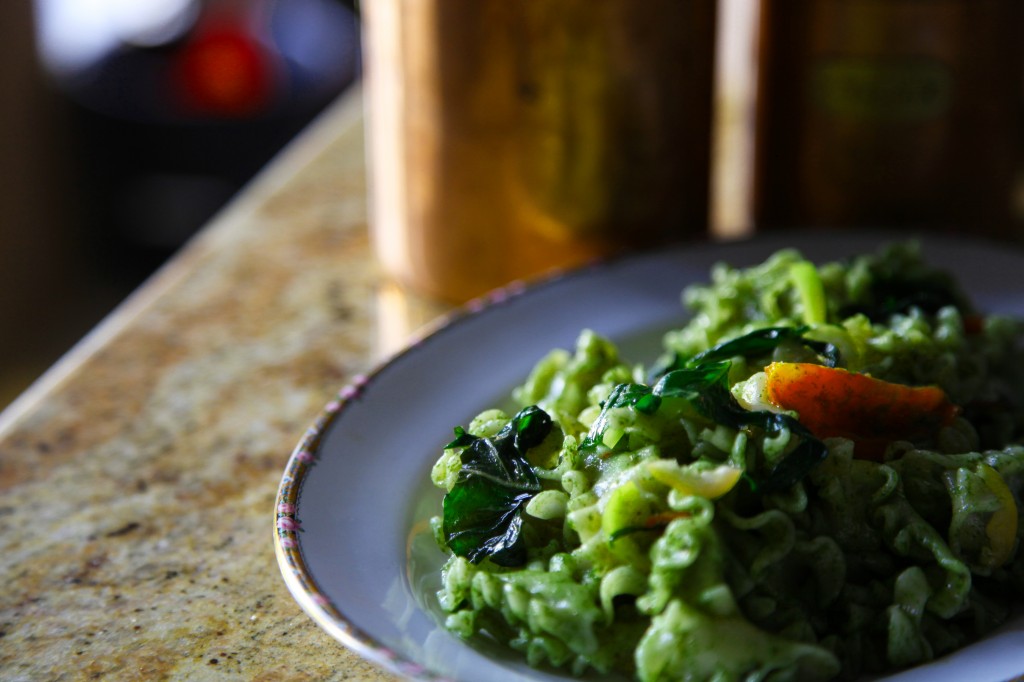 This summer, I've managed to target every backyard garden belonging to friends and family to source the freshest seasonal ingredients for my home cooking. The perilla leaves for this recipe came from my mother's backyard garden where she's been growing them for at least a decade now. Sometimes green, and sometimes purple, perilla leaves tend to resemble the stinging nettle leaf.
Widely available in Asian markets, perilla leaves are a staple ingredient in South Korean and Japanese cooking — the Japanese call theirs shiso, while the Koreans call their deulkkae. Using the flavorful herb, I put together a bright and beautiful pasta dish for late summer.
Recipe: Rina Oh
Campanelle with Perilla Pesto and Seasonal Summer Vegetables
Yields 4 servings
Ingredients
1 pound campanelle pasta, cooked as per package directions
1 cup perilla leaves, blanched in boiling water
3 cloves raw garlic
1 cup extra virgin olive oil
½ cup toasted walnuts
½ teaspoon salt
2 tablespoons olive oil
1 shallot, finely chopped
2 Hungarian peppers, sliced
2 medium size tomatoes
½ cup fresh perilla leaves
Directions
In a blender, pulse cooked perilla leaves with garlic and walnuts. Drizzle in olive oil slowly until pesto is fully blended for about two minutes. Season with salt and pepper to taste, and set aside.
Next, heat two tablespoons of olive oil in a medium skillet. Add shallots, peppers, tomatoes and fresh perilla leaves. Saute for two minutes stirring continuously until perilla is tender.
Stir in cooked pasta and pesto sauce.