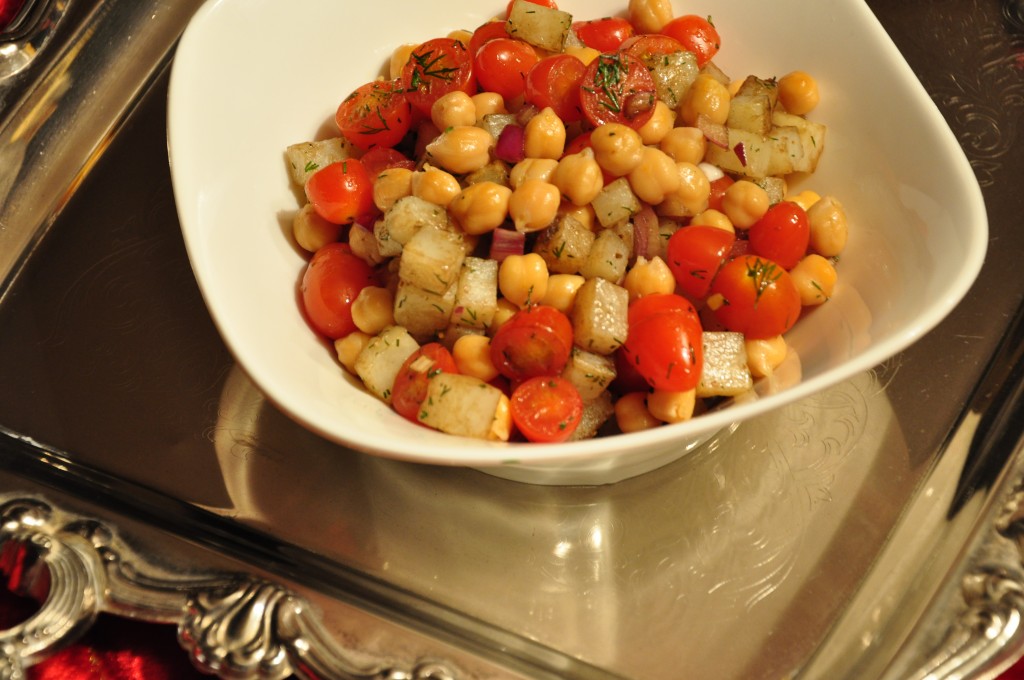 Food2 is jumping on board with Meatless Monday, an initiative to help reduce meat consumption for personal health and the health of the planet by going vegetarian for one day each week.
Looking for an easy, portable lunch idea for the office? Try a main-dish salad. Served warm or cold, this budget-friendly meal is hearty enough to fill you up in the winter months, and requires only 15 minutes of hands-on time.
Lemony Potato Salad with Chickpeas and Tomatoes
Serves 6 as a main course
Preparation time: 15 minutes
Cooking time: 15 minutes
Ingredients:
6 medium Idaho Potatoes, washed, peeled and diced into 1/2-inch cubes
2 tablespoons vegetable oil
1 teaspoon salt, divided
1 tablespoon fresh dill, coarsely chopped
1 cup cherry tomatoes, halved
1/4 cup red onion, finely chopped
1 cup cooked or canned chick peas, drained
2 tablespoons olive oil
2 tablespoons fresh lemon juice
1/4 teaspoon freshly-ground black pepper
1 tablespoon balsamic vinegar
Directions:
1. Preheat oven to 400 degrees. Line a baking sheet with parchment paper.
2. Toss potatoes with vegetable oil, 1/2 teaspoon salt and dill.
3. Place potatoes on lined baking sheet, and roast in oven for 15 minutes, or until fork-tender. Remove potatoes from oven, transfer to a large bowl and set aside to cool.
4. Make vinaigrette: In a medium bowl, whisk together olive oil, lemon juice, black pepper, balsamic vinegar and the remaining 1/2 teaspoon of salt.
5. Add tomatoes and chickpeas to the bowl with the potatoes. Toss with vinaigrette, and serve.