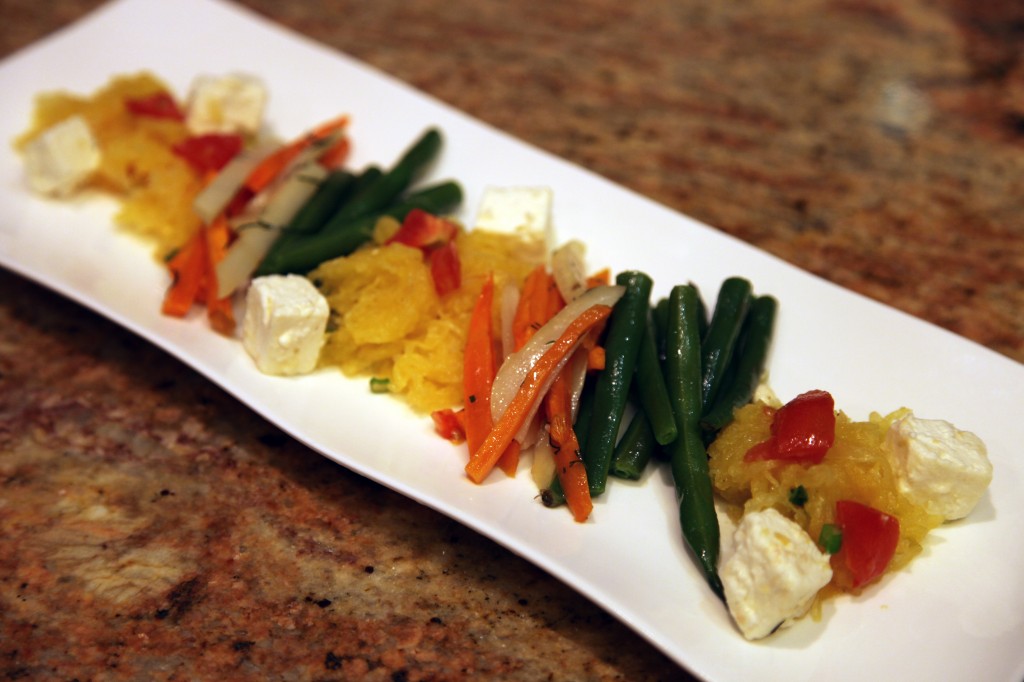 Recipe: Rina Oh
This week in Meatless Monday, a refreshing spring salad that's perfect for a light lunch or a starter for entertaining.
Spring Salad with Spaghetti Squash
Yields 6-8 servings
Ingredients
Salad:
3-4 tablespoons vegetable oil
1 spaghetti squash (2-3 pounds), split in half and seeds removed
2 sweet potatoes, peeled and sliced into thin strips
3 red bliss potatoes, peeled and sliced into thin strips
2 tablespoons fresh dill, chopped
Salt and pepper to taste
1 tomato, diced
1/2 pound green beans
1 cup feta cheese, cubed
Vinaigrette:
Zest of 1 lemon
Juice of 1/2 lemon
1/4 cup olive oil
Salt and pepper to taste
Directions
1. Preheat oven to 350 degrees. Coat the bottom of a baking sheet with vegetable oil. Place spaghetti squash face down and bake until a fork goes in easily, about an hour. Lightly toss potatoes with vegetable oil, dill, salt and pepper, and place them on a second baking sheet. Bake until a fork goes in easily, about 30 minutes.
2. Remove spaghetti squash and potatoes from oven. With a fork, gently remove scrape out the flesh of the spaghetti squash, and set a colander to drain excess liquid. Allow to cool for at least 15 minutes.
3. Bring a large pot of salted water to a boil. Add beans and cook until bright green, but still crisp, about 3-5 minutes. Remove, and plunge into ice water to stop cooking.
4. To make vinaigrette, whisk together lemon juice and olive oil. Add lemon zest and season with salt and pepper to taste.
5. Dress each salad ingredient separately and then assemble. Top with feta cheese.