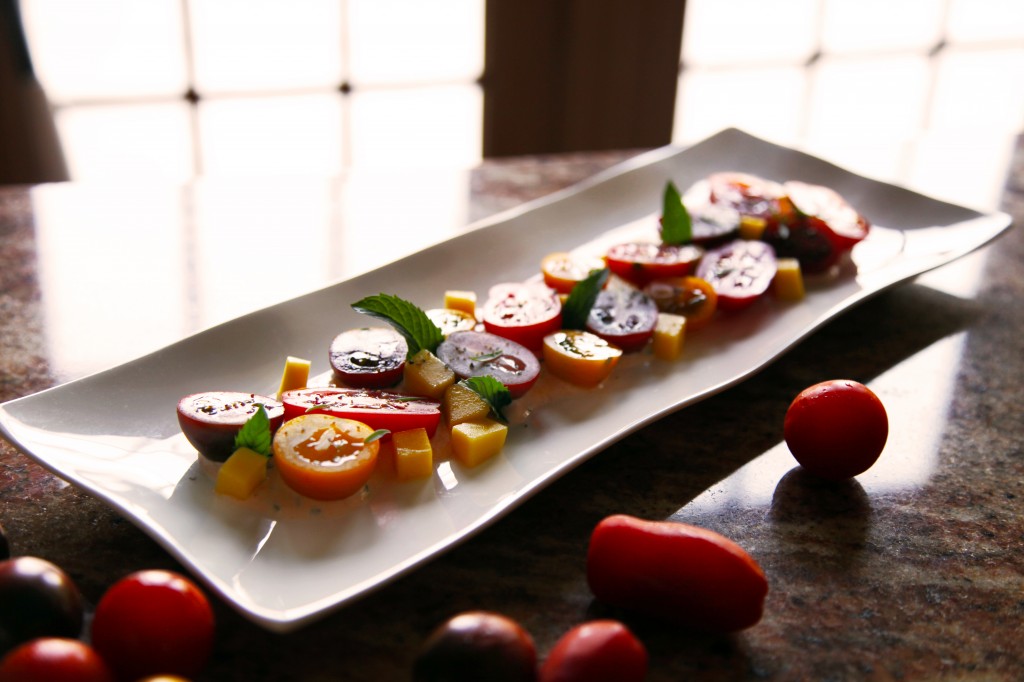 Tomato season just started and if you're not already out in the markets buying the season's best local varieties, well it's about time you got going!
I grabbed these beautiful bright guys at a local market in New Jersey, and grew the fresh herbs at home. You can add your favorite fruit to this tomato salad or simply eat it as it. Either way, it's a refreshing starter to any weekday dinner.
Recipe: Rina Oh
Summer Tomato Salad
Yields 4 servings as an appetizer
Prep time: approximately 10 minutes
Ingredients
8 ounces plain Greek yogurt
2 tablespoons of pureed apricot
1 tablespoon lime juice
salt and pepper to taste
½ teaspoon fresh mint, chopped
½ teaspoon fresh oregano, chopped
½ teaspoon fresh basil, chopped
1 pound of fresh cherry tomatoes
1 cup mango, diced
Mint leaves and fresh oregano for garnish
Directions
1. In a medium size mixing bowl, combine yogurt with apricot puree and fresh herbs. Add lime juice and season to taste with salt and pepper.
2. Lay yogurt mixture on plate and top with fresh tomatoes, mango dice and finish with fresh herbs.