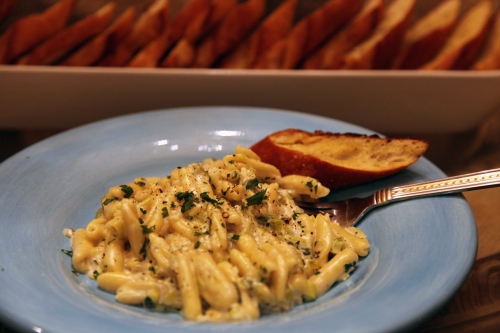 Looking for a date night dinner? This creamy pasta dish is simple, sophisticated, and sure to impress any guest.
This dish is made with Béchamel, a classic French sauce made by whisking hot milk into a roux made with equal parts flour and butter. The technique results in a thick, creamy coating, making pasta dishes both heartier and more elegant.
Creamy Leek Cavatelli with Crostini
Yields 4 servings
Ingredients:
1 lb. dried or frozen cavatelli pasta, cooked al dente
1/4 cup extra virgin olive oil
3 leeks, white parts only, finely chopped
1 shallot, finely chopped
2 cloves garlic, crushed
2 cups milk, heated
2 tablespoons butter
2 tablespoons flour
2 tablespoons chopped parsley
1/2 teaspoon salt
1/4 teaspoon fresh ground pepper
1/2 cup Parmesan cheese
For the crostini:
1 French baguette, sliced into 1/2-inch pieces on the bias
2 tablespoons extra virgin olive oil
Salt and pepper to taste
Directions:
1. Preheat oven to 350 degrees.
2. In a medium skillet, heat 1 tablespoon of olive oil over medium heat. Add leeks, shallots and garlic, reduce heat to low and cook, stirring occasionally, until vegetables are translucent, about 3-5 minutes.
3. In a sauce pan, melt butter over medium-low heat and add flour. Stir or whisky, making sure to break up any lumps, until frothy, about 1-2 minutes. Add heated milk a little bit at a time and cook over medium-low heat, whisking or stirring, until liquid is thick enough to coat the back of a spoon, about 6-8 minutes.
4. Stir in leek mixture, cavatelli pasta and grated cheese. Season with salt and pepper and garnish with fresh chopped parsley.
5. Brush olive oil onto bread slices and sprinkle with salt and pepper. Bake in a preheated oven for about 5 minutes.