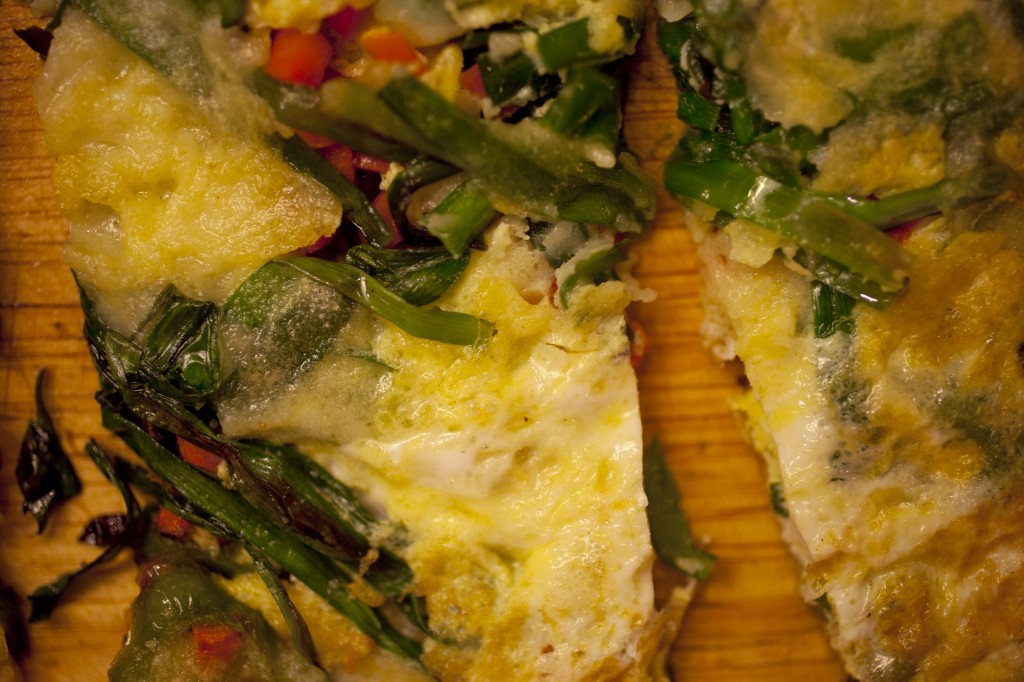 The last twelve months have been an amazing food adventure. Going meatless every Monday meant putting those creative bugs to work, utilizing ingredients I've never used before and thinking outside of the box.
I've sourced local produce directly from farmers more often than I've bought it from a supermarket, and realized it's always better and often cheaper buying local and seasonal.
I've truly become a Meatless Monday advocate, convincing friends, family and animals to go meatless one day a week. Yes — even animals! I fed my dog tofu several times this year and started including local root vegetables and rice in his diet. Thanks to the folks here at Food2, I've gone from amateur food writer to pro.
I'm sad to hear that the end is fast-approaching for the site. I will miss all the irreverant quirkiness! And where am I to go next? I'll still be going meatless on Mondays, still continuing to make Korean Food at Home (the other food I love, the food I've spent countless hours cooking this past year).
I'm off to writing and illustrating a superhero comic book. This isn't the last you've heard from me — I promise there will be more coming soon. Until then, stay tuned. I'll be back!
Vegetarian Pancakes
Ingredients
1 cup Chinese Chives, sliced into 2″ strips
3 Korean peppers, sliced on the bias
2 California carrots, diced
1 cup sweet rice flour
pinch salt
1 cup water
2 eggs
4 eggs, beaten
Directions
Sautee vegetables in a skillet with two tablespoons of vegetable oil over medium heat. Cook for about two to three minutes, remove and set aside.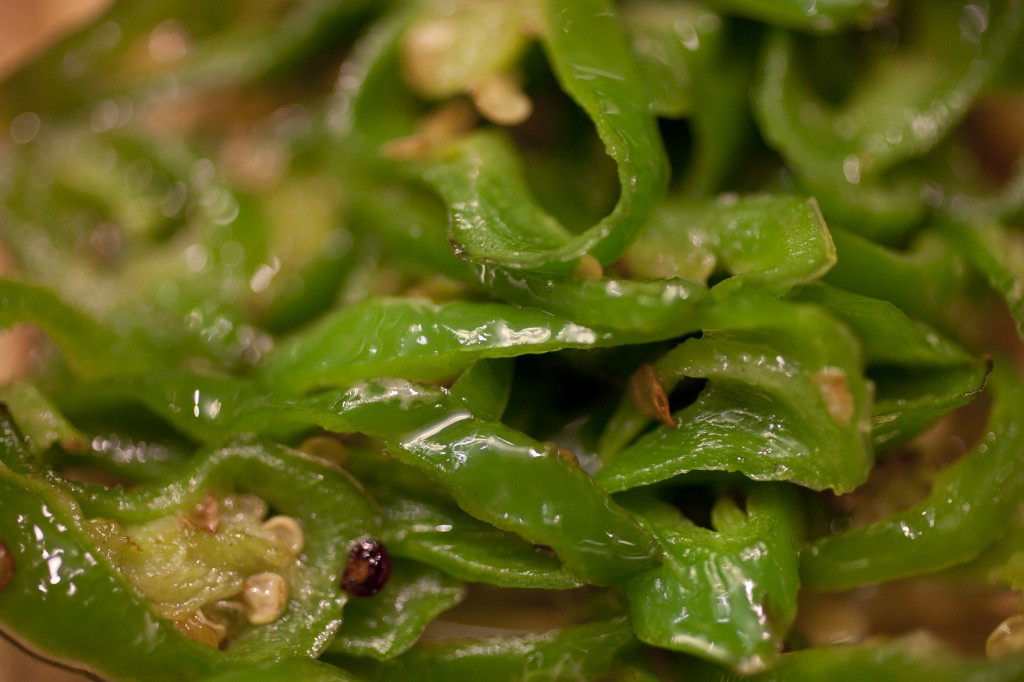 Mix batter in a mixing bowl: add flour, salt, water and eggs. Whisk until it's nice and creamy. Reserve four eggs beaten for finishing the pancakes at the end.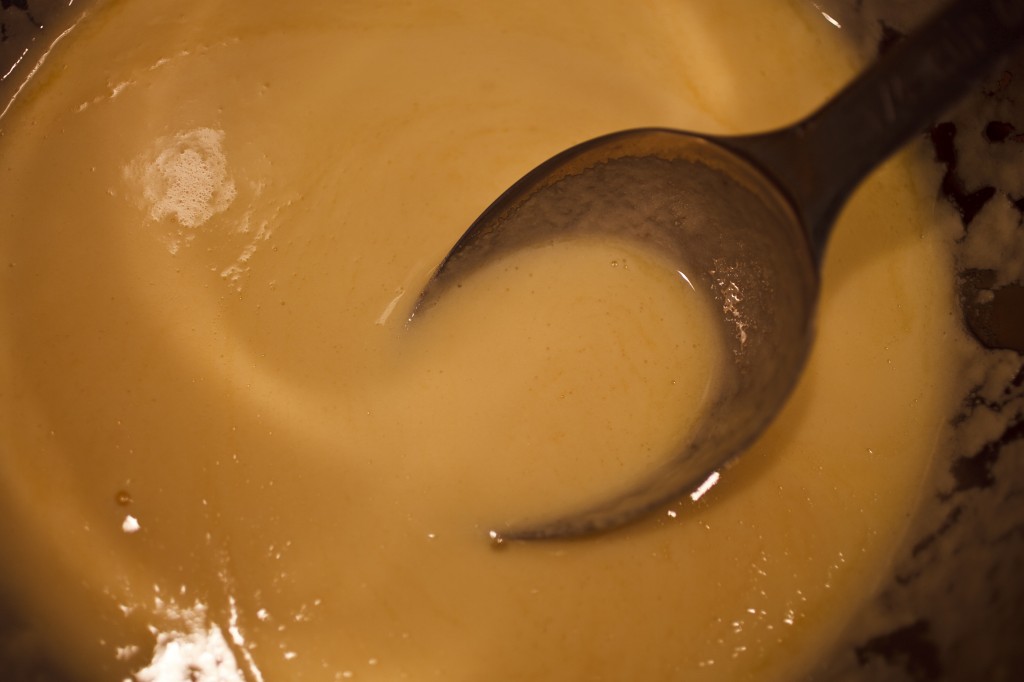 Return cooked vegetables to the skillet with some vegetable oil. Pour about batter over veggies, pour beaten egg (about 1 egg per pancake).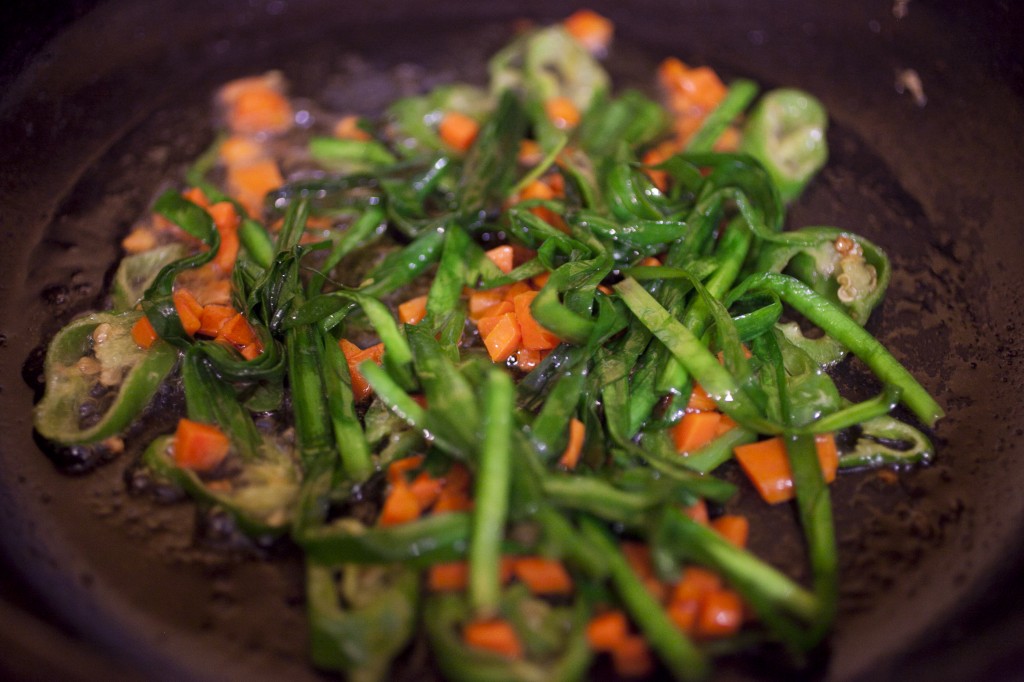 Flip pancake over using spatula. Continue cooking for 2 minutes on each side. Remove, slice and serve!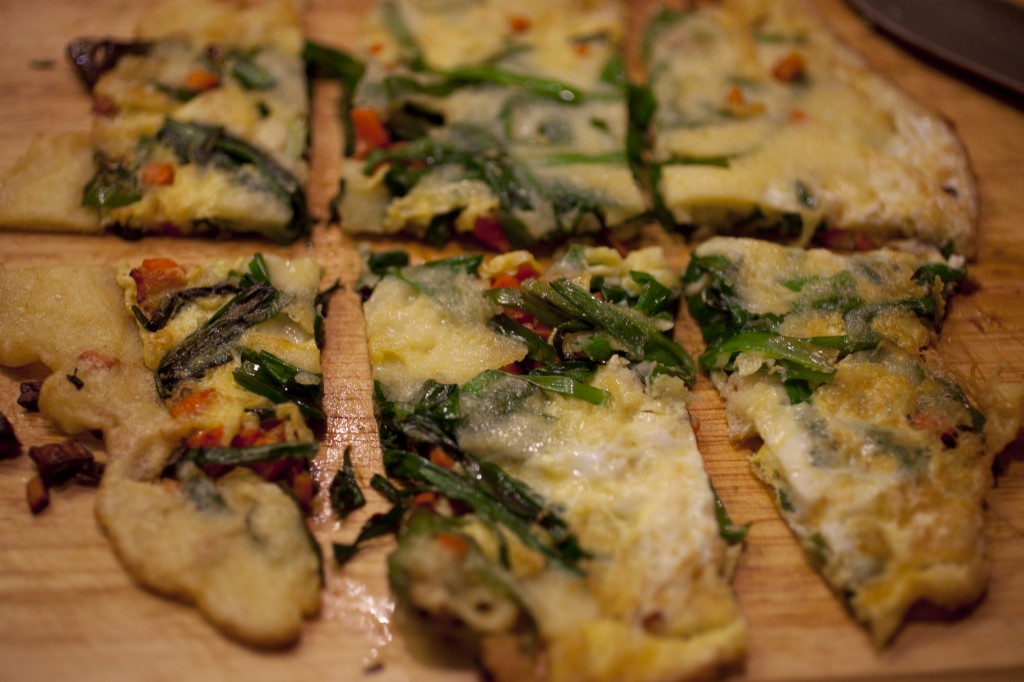 Food2 Farewell
I've decided to prepare a holiday special and given the craziness that comes from shopping, re-organizing, and traveling, most individuals, including myself, don't want to spend an entire day cooking on that special day. So I've started to prep my holiday meal ahead of time, by slowly purchasing groceries, cleaning, and pre-cooking them. To kick it off, I found these cute baby radishes and California carrots last week.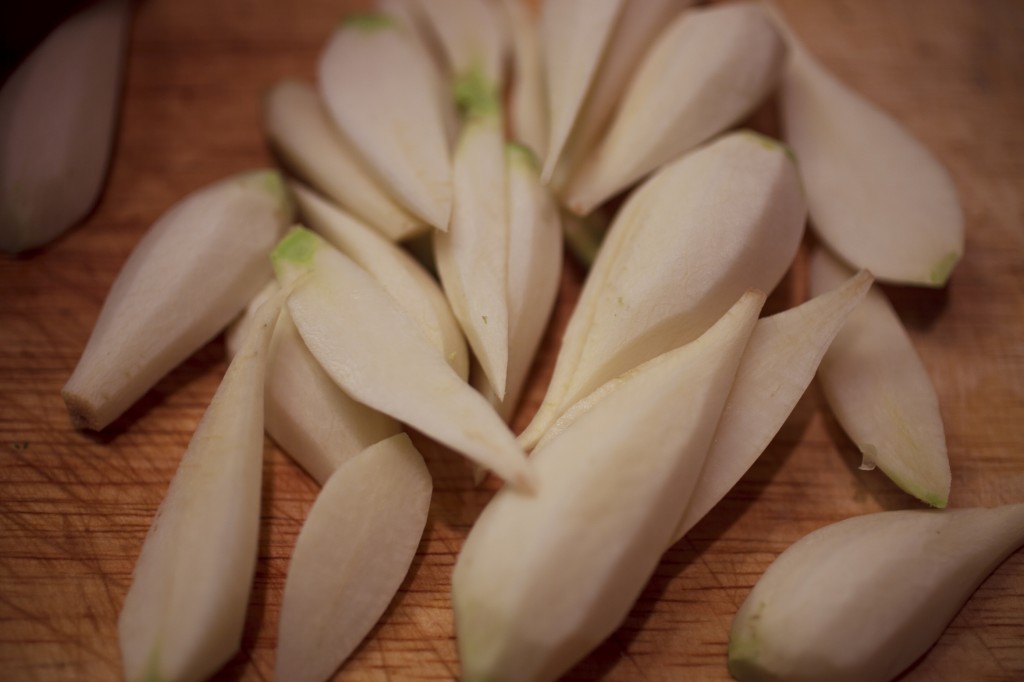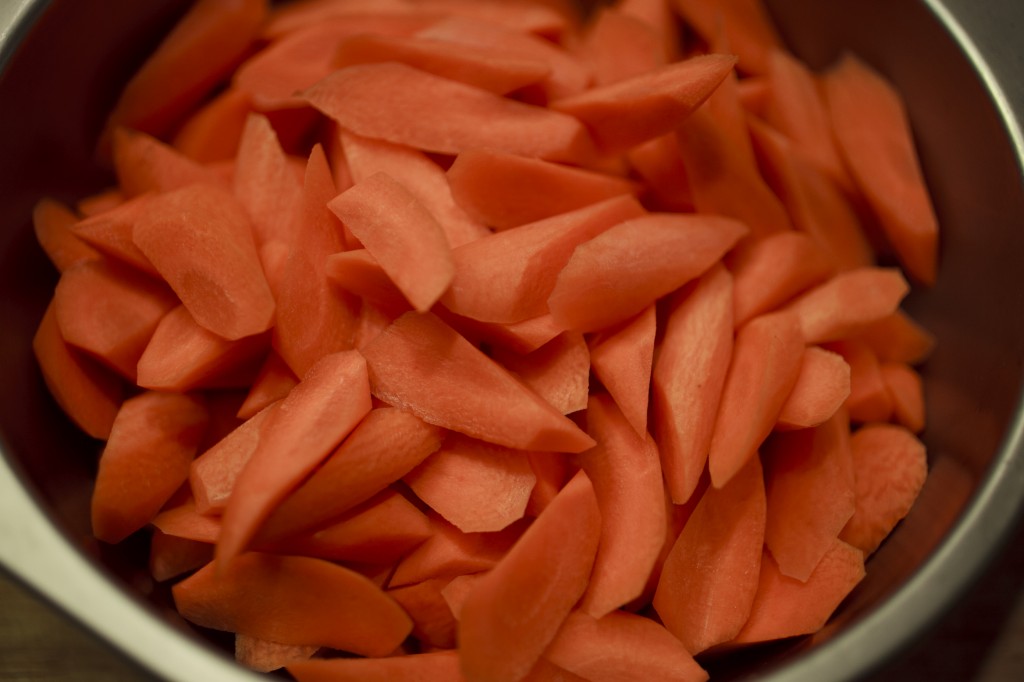 I blanched them in boiling water for a few minutes, threw them in an ice bath and into a ziplock bag for the freezer. I'll see you soon little vegetables…to be continued…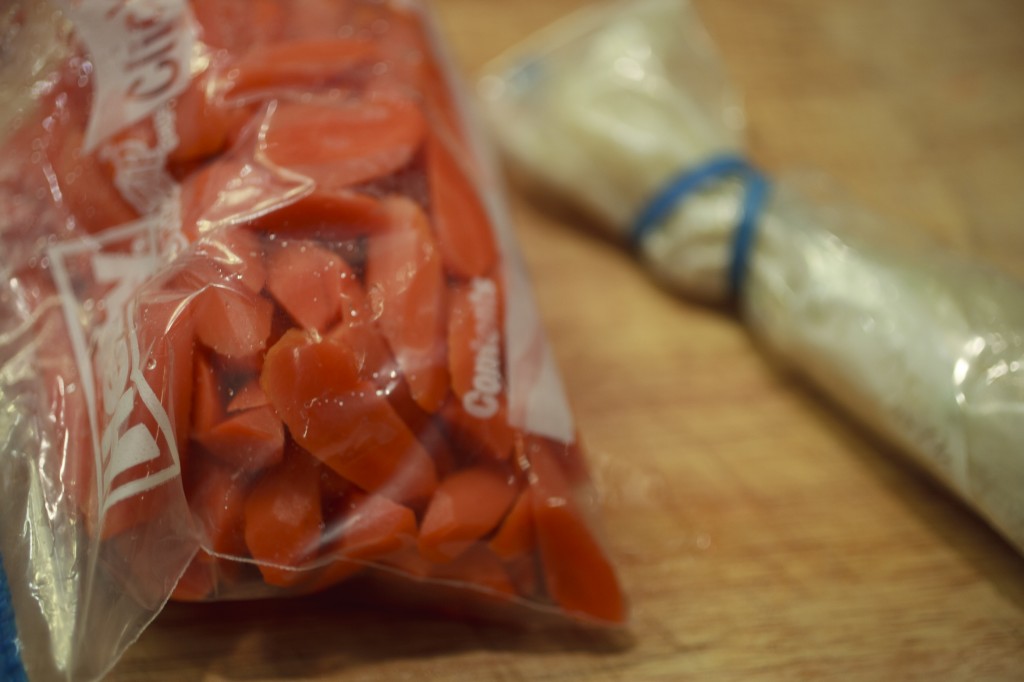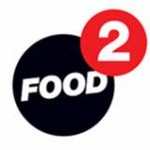 Rina Oh is an artist, writer and chef and a Meatless Monday advocate. For the last year these Meatless Mondays recipes have appeared on Food2.com, a website that is owned and operated by Scripps Networks. These posts are copyrighted material and any photographs, illustrations or written material are forbidden to be used or reposted anywhere without permission. For more information on Meatless Monday, please visit meatlessmonday.com