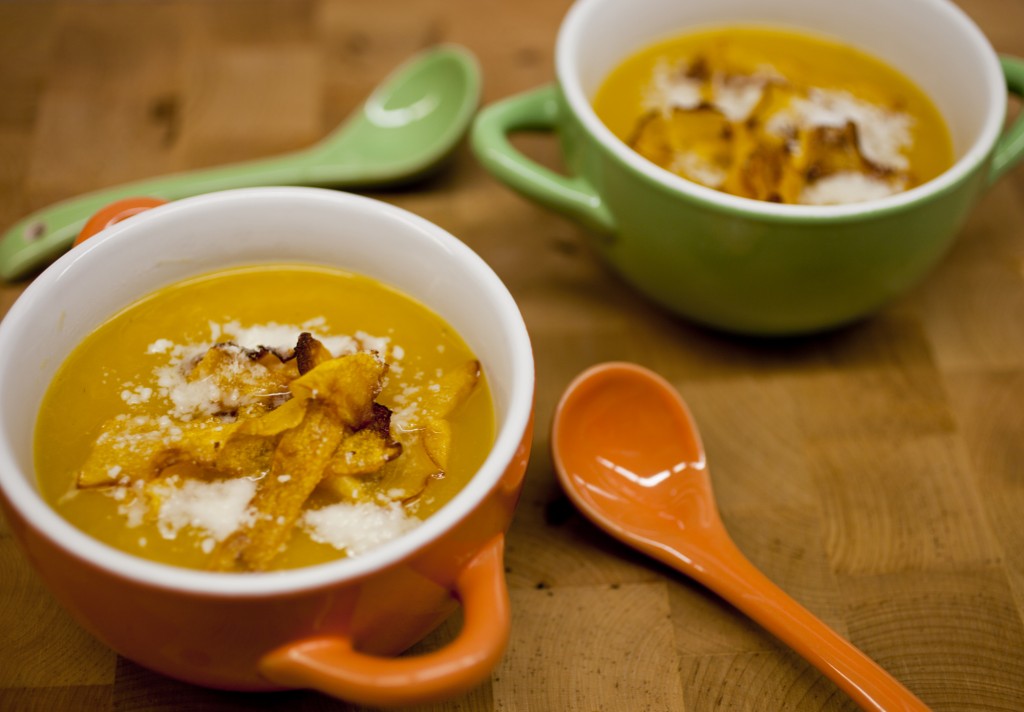 Not only is it October, but it's Halloween and high-time for pumpkins to come out and play. Before they're all sacrified to the jack-o-lantern gods, get your hands on a few because boy do they make for some mouth-watering fall soups. Simple, easy and surprisingly good even when warmed up the week after, I've got just the pumpkin soup to get you started.
Pumpkin Soup
Yields about 6 cups
Ingredients
For Pumpkin Soup:
2 tablespoons extra virgin olive oil
1 medium sweet pumpkin
2 tablespoons butter
1 white onion, chopped
1 quart vegetable stock or water
¼ teaspoon nutmeg
½ teaspoon salt
For Garnish:
½ cup shaved pumpkin
½ cup small pumpkin dice
½ cup grated gruyere cheese
Directions
For Pumpkin Soup:
Place pumpkin on an oiled baking sheet and bake in a preheated oven at 350 degrees for 45 minutes to an hour. Remove from heat and scoop out pumpkin chunks with a spoon. Set aside.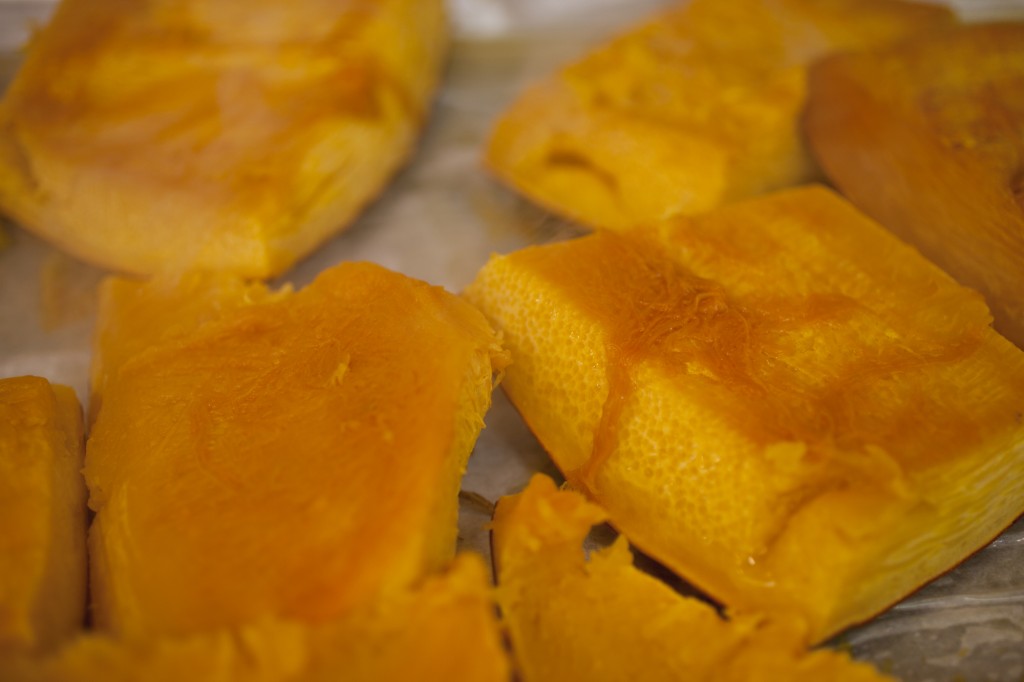 In a large stockpot, melt butter and cook onions in low heat for about 5 minutes until they are translucent. Add vegetable stock, salt, nutmeg and pumpkin.
Bring to a boil and reduce heat to a simmer. Cook for about half an hour and blend in batches. Season to taste with salt.
For Garnish:
Reserve about 1/2 cup of raw pumpkin with skin removed. Using a vegetable peeler or mandolin, shave the pumpkin into strips. 
Heat deep fryer at 375 degrees and immerse pumpkin strips for about 2 minutes. Season with salt immediately.
Use the other ½ cup of pumpkin for the pumpkin dice. Add into salted boiling water, cook until tender for about 2 minutes, remove- immerse into an ice bath to cool and then let air dry.
Pour soup into bowls, add pumpkin dice and top with gruyere cheese and fried pumpkin!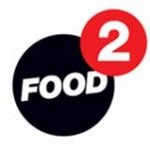 Rina Oh is an artist, writer and chef and a Meatless Monday advocate. For the last year these Meatless Mondays recipes have appeared on Food2.com, a website that is owned and operated by Scripps Networks. These posts are copyrighted material and any photographs, illustrations or written material are forbidden to be used or reposted anywhere without permission. For more information on Meatless Monday, please visit meatlessmonday.com