I only write about memorable dining experiences, and this dinner from last night was certainly magical. The aura of the chefs in the kitchen filled me with so much joy, and hope that we are all doing the right thing. I sat alone near the kitchen with a nearby table full of doctors who didn't mind my occasional blurts intruding on their conversations. We shared our love for the same meal.
I started taking selfies at the Beard House recently, it only makes sense. I spend on average 40-50 days out of the year here. So that's about 6 hours times 40-50 times every year. That's a lot of time spent in one restaurant! Why didn't I think about doing this sooner? I should've taken advantage of the mirrored bathroom earlier. I love taking photos of myself making faces in different poses! Ha!
Getting back to the dinner last night. We had our stomachs filled with Wagyu beef from the Moon. I usually don't like the taste of any red meat crudo, however this one sang in my mouth. It could've been the crisp fermented radish paired with it, with the crunchiness of the corn, and little bits of foamy stuff going in there as well.
After that we had this chicken sausage, that came with a very crispy pork skin or chicken skin? It tasted really good. The sausage itself was a bit salty- overall most of the dinner was on the saltier side. It's meant to be consumed with all the wines I figured, although I prefer more whites and rose wine these days.
The Mangalista Pork Skin Noodles were a big fustian mark. I wasn't a fan of the noodles and I loved the clams in the sauce. It sang in my mouth. The clams were barely touched by fire and I watched as the chef sautéed those little guys and drowned them in white wine in a flambe afterwards.
I felt like a real voyeur last night, one whom graduated from being a seer to a creator of something new, you now see the images of the chefs from a cook's point of view. I started taking my shots in angles that would only come from someone who's actually in the kitchen cooking or working the line. I started calling out "behind", "corner"- like the good old days. I miss cooking like this.
This persimmon sorbet was everything. I'm hungry today thinking about it.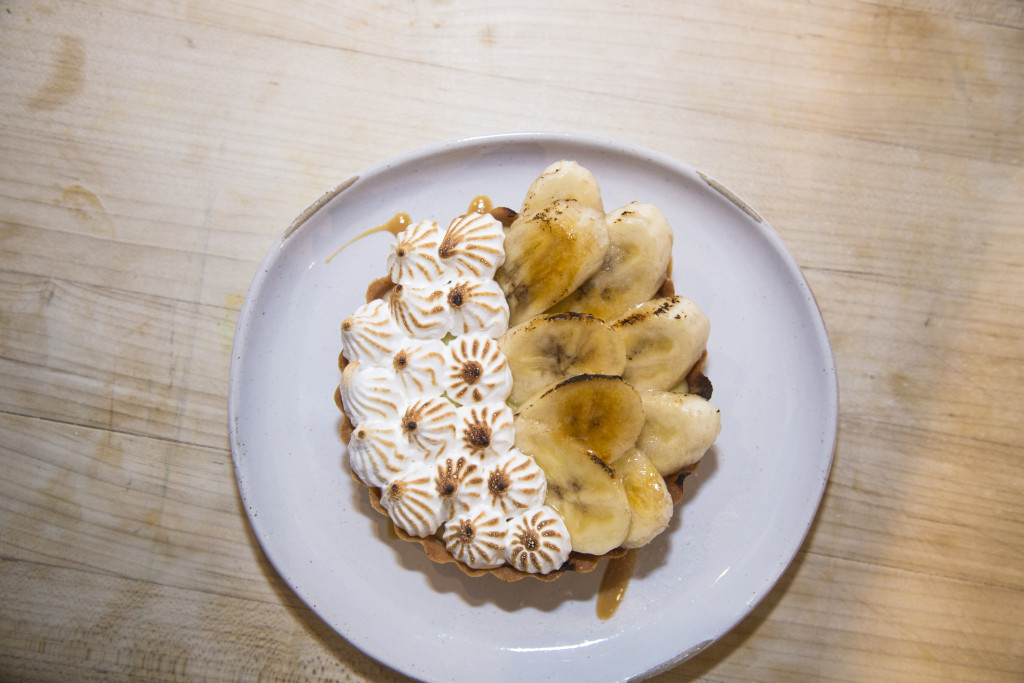 And finally the finale was this spectacular-spectacular Banana Cream Pie with Vanilla Wafer Crust. I can still taste the crispy wafer crust and melting meringue in my mouth. I should've finished it last night but there's that diet I keep talking about. Oh well- maybe I'll really start it tomorrow.
I'm off to the market now to buy some fish for Daniel. I got a sudden urge to make brussels sprouts with a white fish and butternut squash.
Until we meet again Mr. James Beard. (Literally next week)