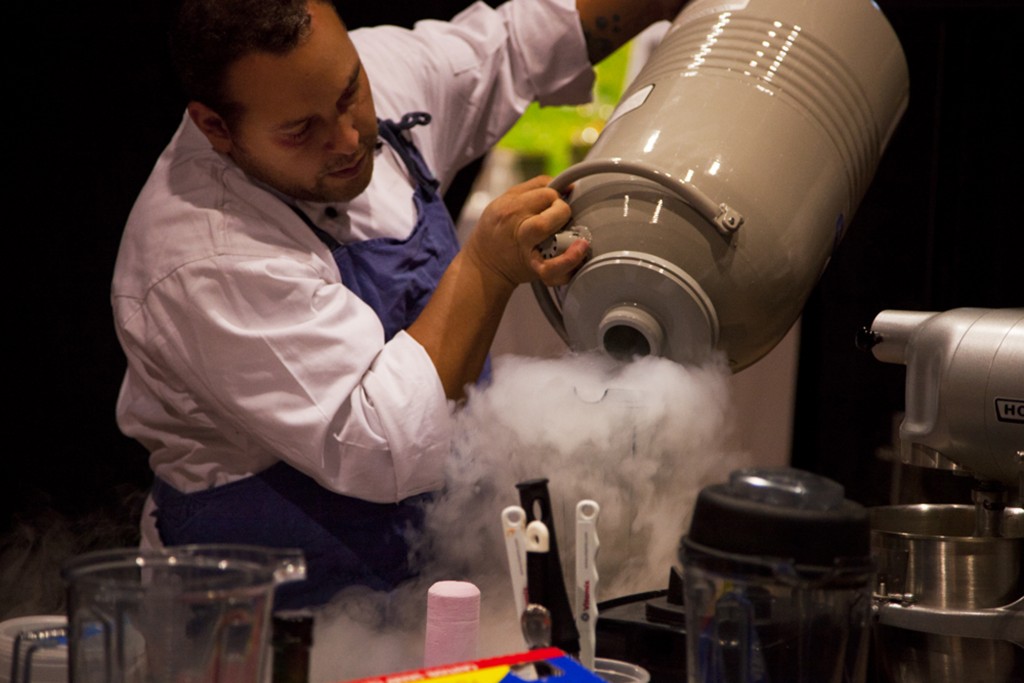 At the International Chefs Congress last week I got to attend live cooking demos with way-noteworthy chefs exhibiting the new technologies used in food science stuff. I even learned how to distill beer into heavily concentrated liquor. The Inventor, Polyscience President Phillip Preston, brought with him a portable laboratory for super food enthusiasts, including gadgets as out there as a smoking gun.
Maybe I'm just a bit of a kitchen-tech nerd, but I recognized the gun. A few years ago there was this show where chefs competed for a top prize, and one year this guy showed up with all sorts of astral-looking equipment, and then whopped out liquid nitrogen and made instant ice cream.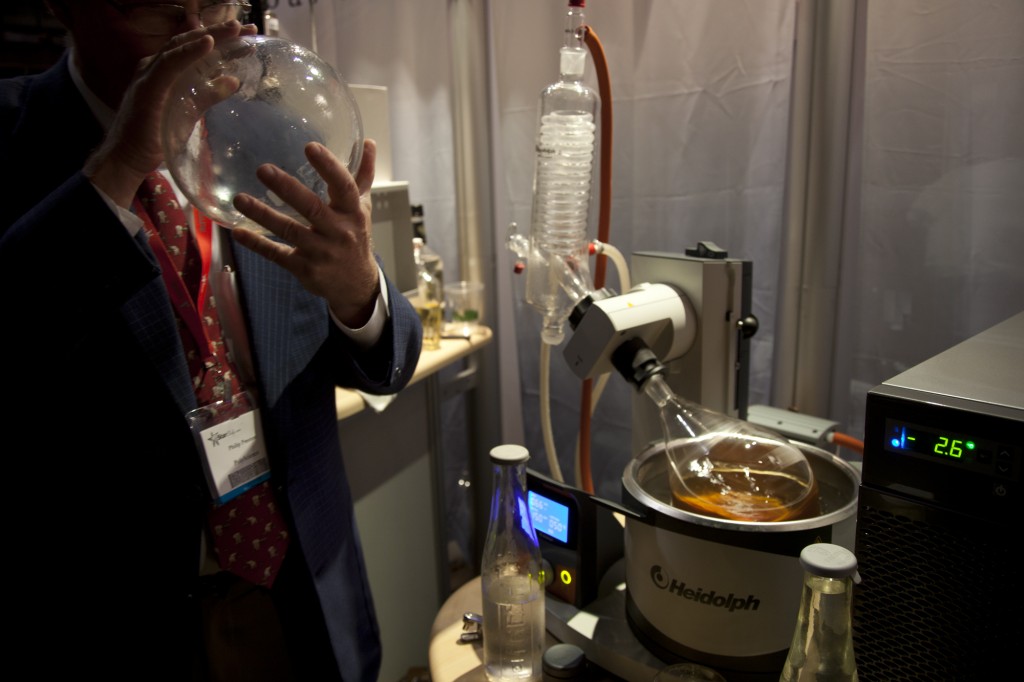 For my daily breakfast I consumed Nespresso's macchiato and stopped by the Emmi Roth USAcheese folks to grab me some aged gruyere every morning.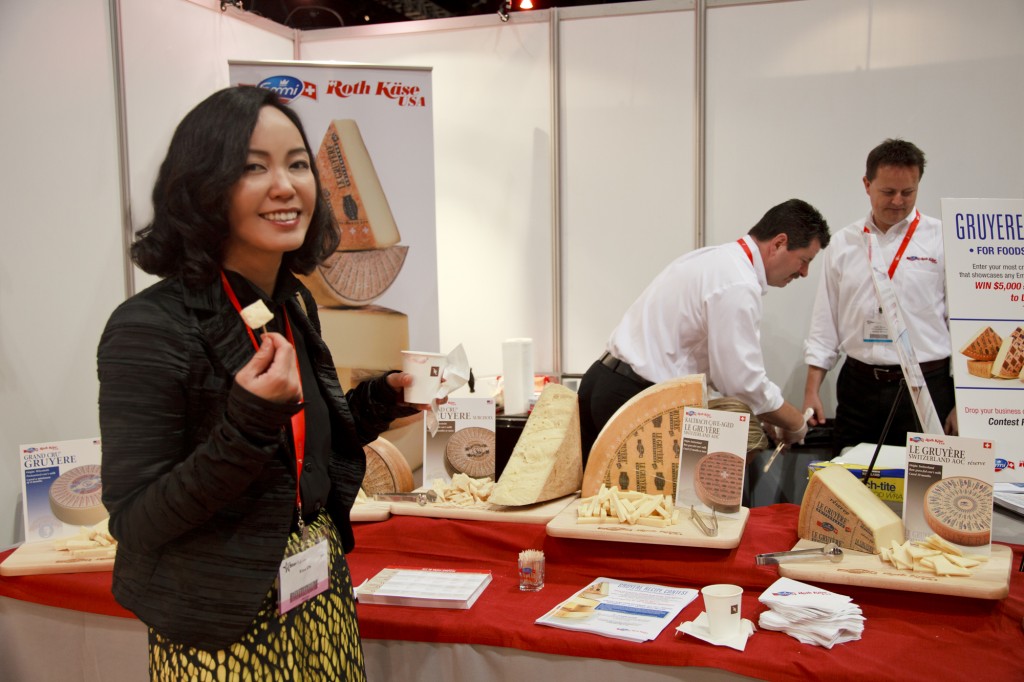 It all ended, three days later with the 2011 Vitamix Challenge being judged in a pseudo iron chef style competition. And let me tell you, the dishes were phenomenal! Last year one of the contestant's managed to steam a fish, in the blender machine, using only boiling water and speed. Pretty neat, eh?!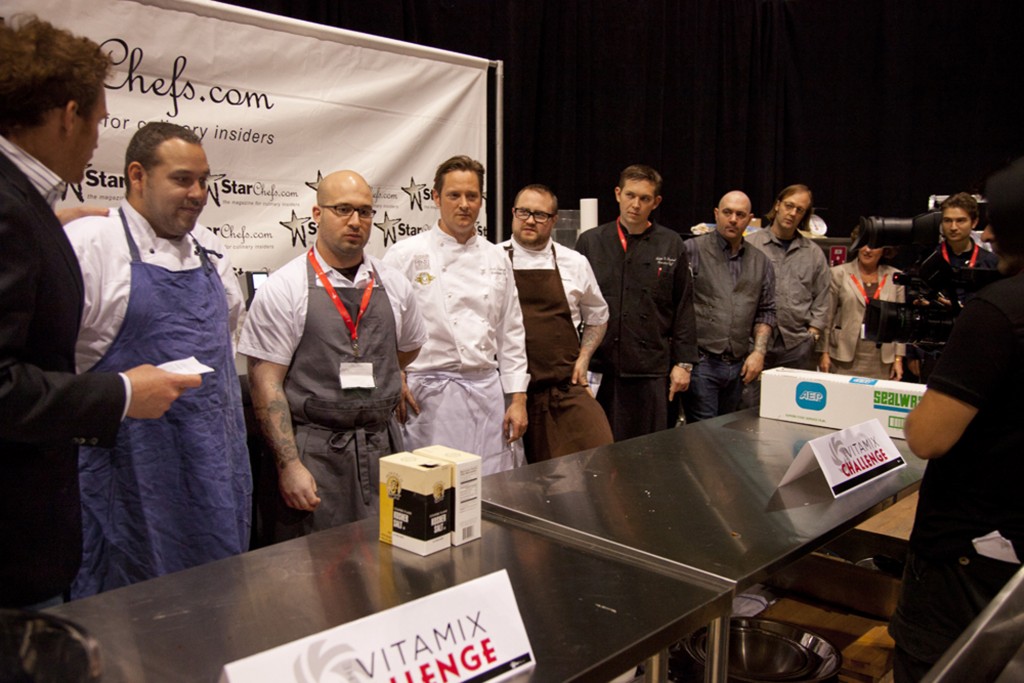 The entire competition took no more than an hour from start to finish. Each contestant had some additional time to prepare mise en place ahead of time.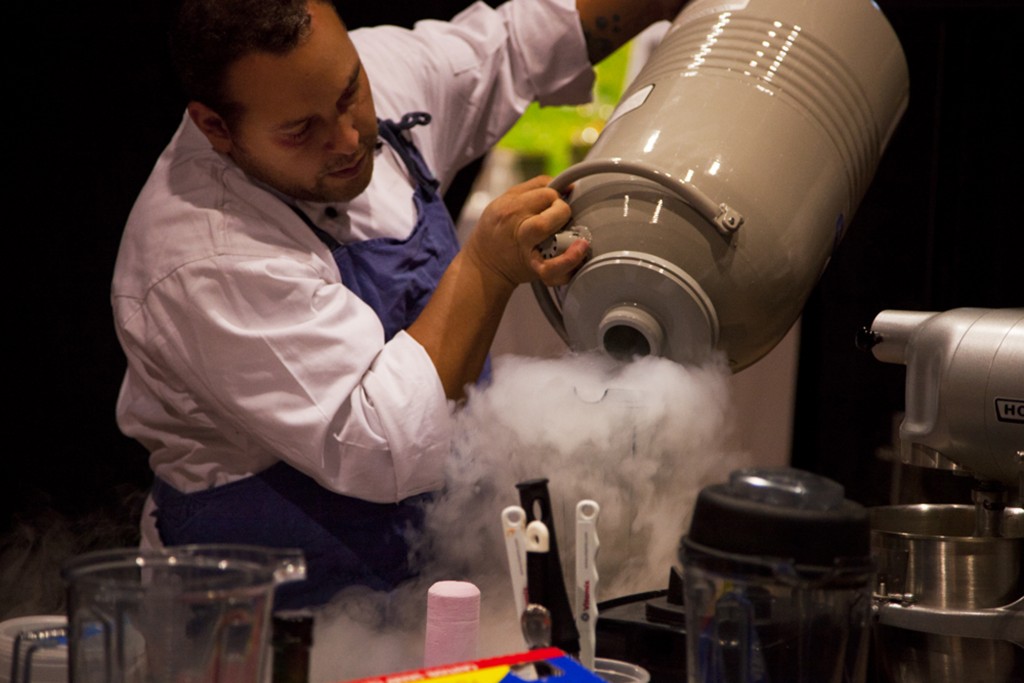 I saw glimpses of sausage casing and pigs blood at one end; neither my favorite ingredient, but amazing to see what looked like a vampire's meals on display. Others brought in vacuum-sealed steaks, fine cuts of dry aged prime sirloin.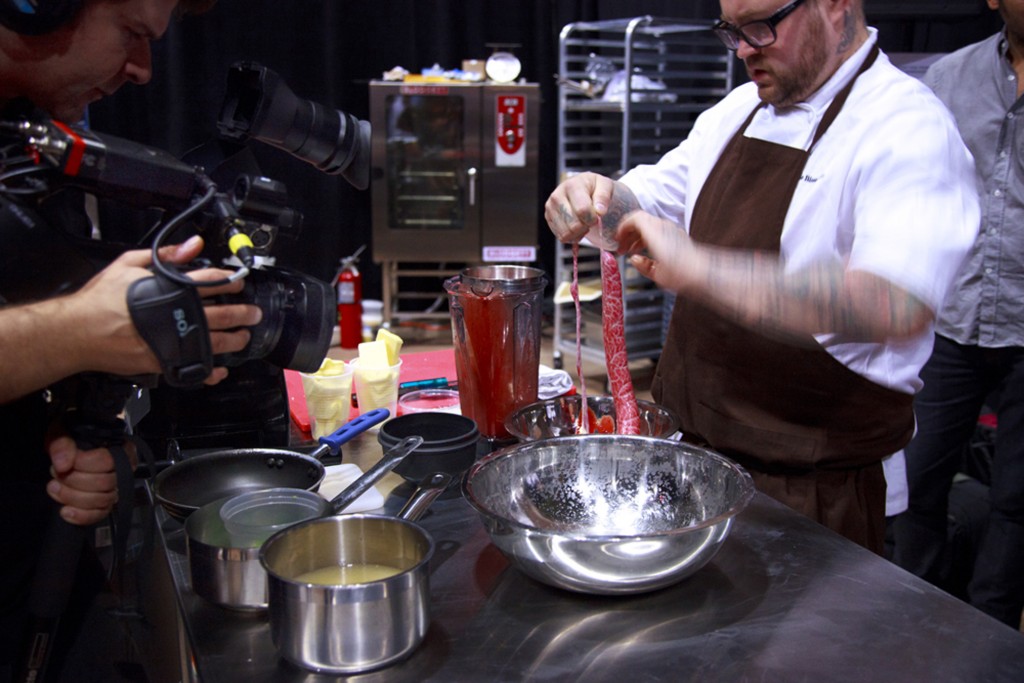 The winning dish this year came at the hands of chef Asbel Reyes of SideBern Restaurant in Tampa Florida, who made Pumpkin Banana Pie using N20 (liquid nitrogen) in the mixing process. His set up reminded me of my line cooking days: everything labeled, packed, organized and separated into steps. I remember browsing through the ingredients before the start of the competition and a nerd alert light bulb firing up.
Finally, after all that cooking, freezing, blending and plating…the dishes looked absolutely stunning: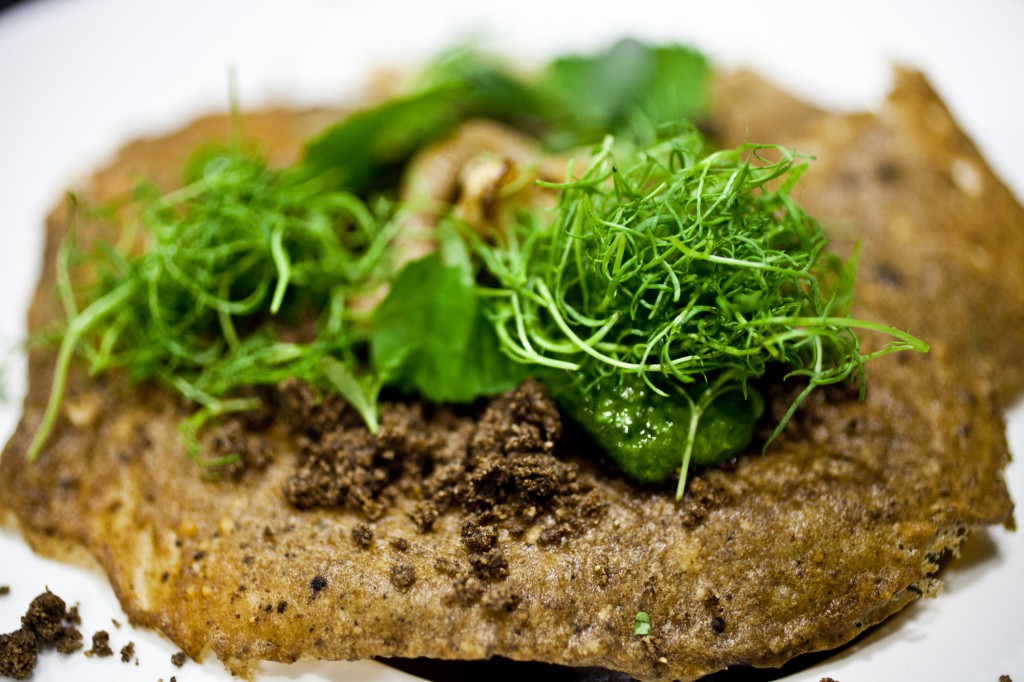 Earth and Turf by Adam Hegsted – Coeur d' Alene Casino and Resort, Spokane, WA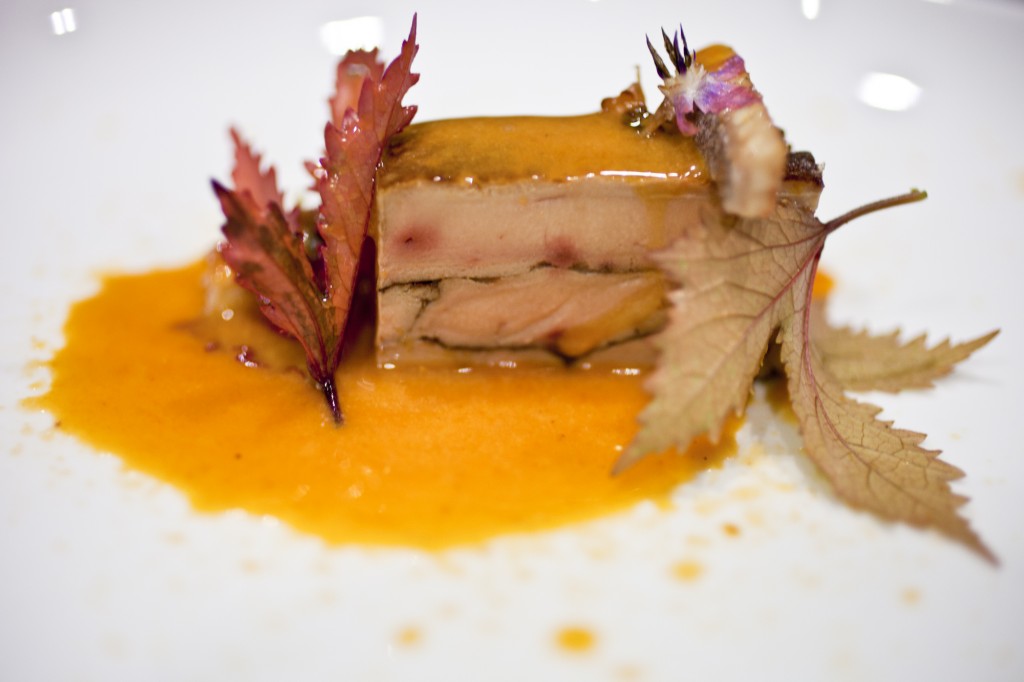 Unagi and Foie Gras Terrine with Pickled Eel, Hibiscus, and Frozen Uni Powder by Seth Siegel-Gardner – Kata Robata, Houston, TX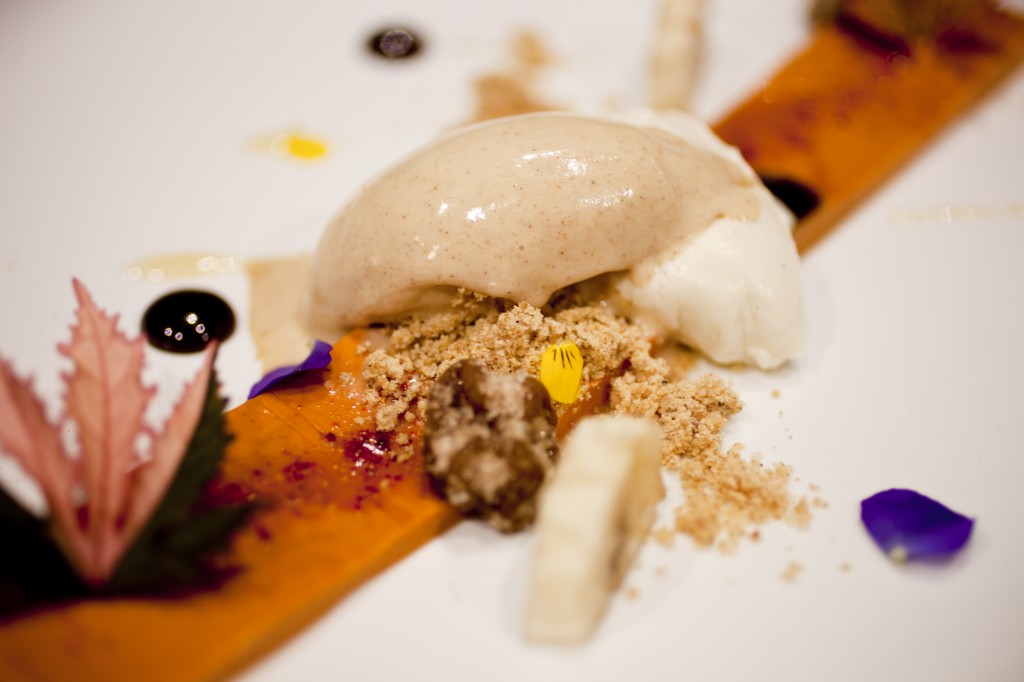 Pumpkin Banana Pie by Asbel Reyes of SideBern's Restaurant Tampa, FL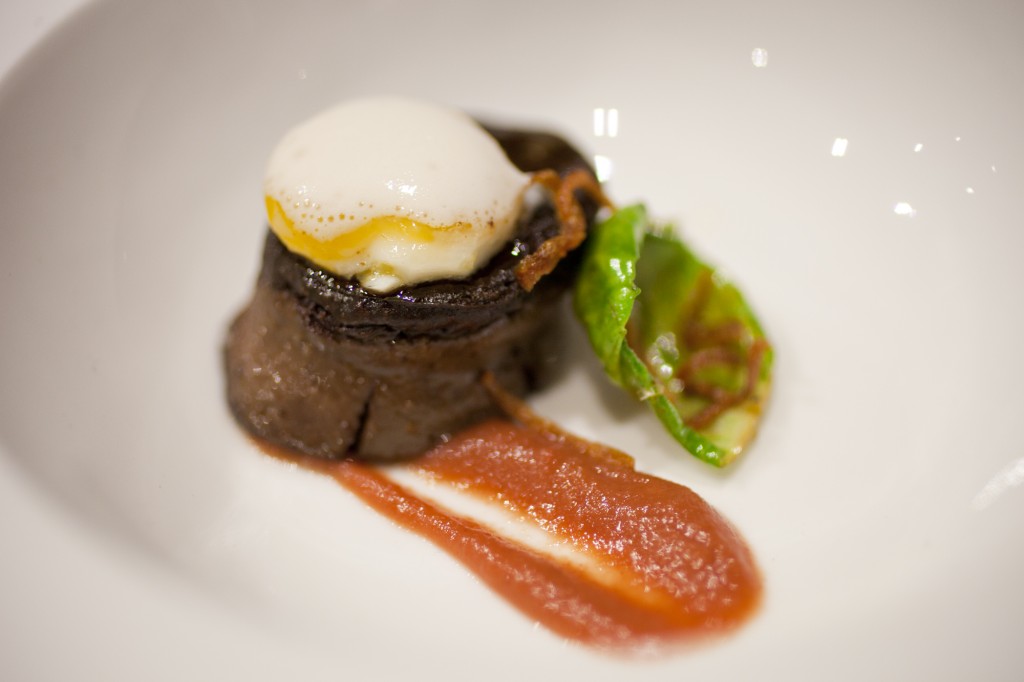 Idiazabel Soup with blood sausage, acorn squash, apple butter, and Urfa pepper by Jamie Bissonnette – Coppa & Toro, Boston, MA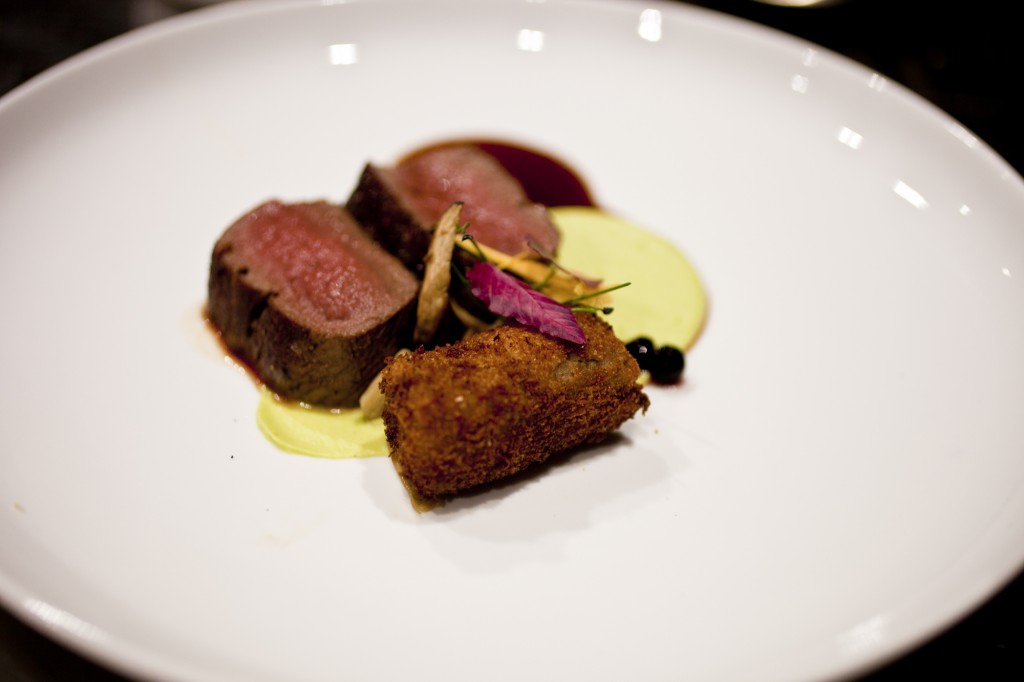 Roasted Loin of Cervena Venison, Liver Mushroom Croquette, Brussels sprouts, Woodland Mushrooms, Berries, and Vadouvan Curry Reduction by Dirk Flanigan – The Gage / Henri, Chicago, IL
Final say was up to judges, who deliberated over their many tasty bites…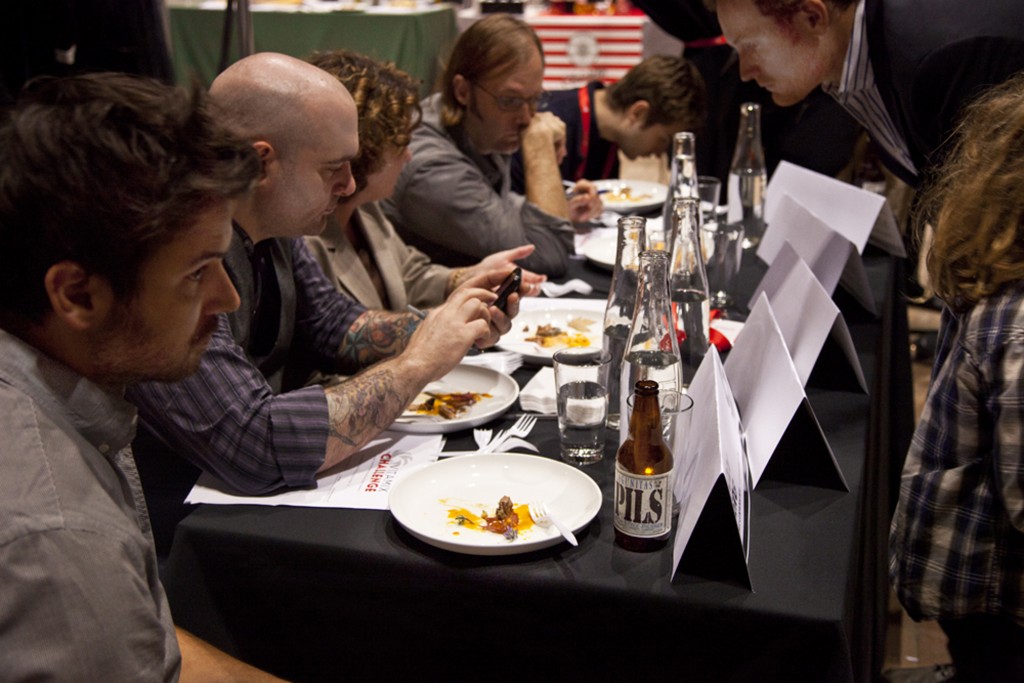 And announced their winner, none other than Asbel.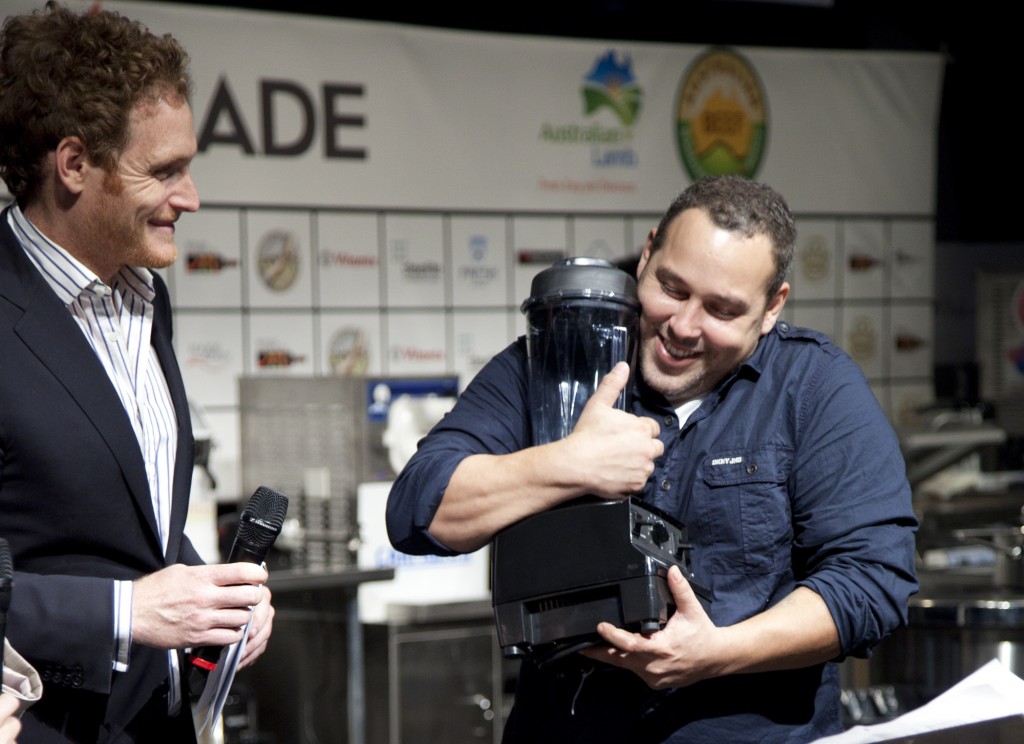 The 2011 Vitamix Challenge Winner
Pastry Chef Asbel Reyes of SideBern's Restaurant
Tampa, FL
Dish: Pumpkin Banana Pie
The winner was announced in the main stadium mid afternoon- something like half an hour after they finished the competition (Pretty short deliberation). Wyle Dusfrene, chef at WD-50 in New York, NY participated as a judge. Here's the key reason why Asbel won: He poured N20 directly into the blender, used it multiple times during the hour-long competition, he was over prepared (chefs like this a lot), and he worked fast. I think pouring the N20 directly into the blender did the trick however. And his dish looked very pretty and tasty too. Here's how the judges broke down the score:
Judges based the challengers on plating technique, uniqueness utilization of equipment and of course how the whole thing tasted.
Equipment use: 50%
Taste: 30%
Plating: 20%
Before I said my farewell to the amazing Disneyland of gadgets, food science and newly attained knowledge, I managed to squeeze in a visit to the main stadium and watched a video of El Huevo Roto as Andoni Luis Adruiz himself explained. The video demo of his egg shell project, made with vegetarian based powders and potions. It looked like a real egg shell. The plating technique requires "cracking the egg" in front of the customer, served tableside (are we attracting Michelin Stars?-hmmm). I was blown away and in awe. Rethinking food is the least we can say about what I witnessed. This my friends was how I spent a fun-filled three day adventure at the Starchefs.com International Chefs Conference, amazed by all the gadgets and space food that will indeed tickle the sixth sense (this year's theme) out of you. I can't wait to go back next year and see what the chefs are up to again. Since it wouldn't come soon enough- I'll spend some time experimenting on my own until then.
More info on El Huevo Roto HERE
Cheers to the geek squad for inventing all the toys a chef and foodies can dream about!