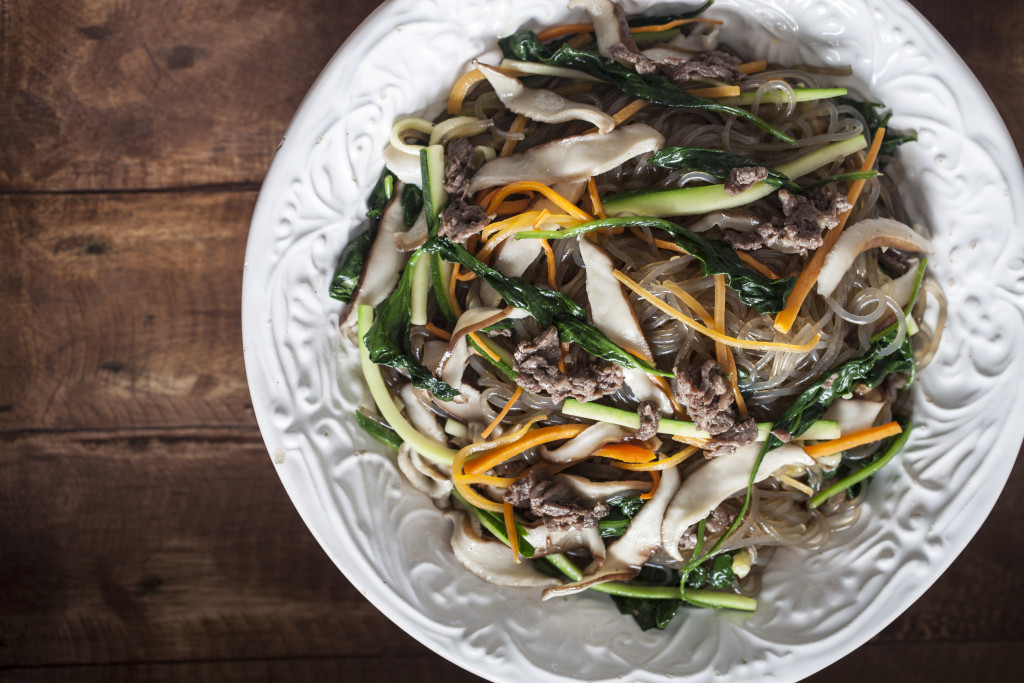 Brighten your culinary palate with this noodle dish traditionally served at large banquets. Korean restaurants offer this popular dish as an appetizer. It's also a great way to use any leftovers you may have!
Korean Japchae (Stir-Fried Vermicelli with Vegetables)
By Rina Oh
Ingredients
¼ cup sunflower oil
½ cup julienned carrots
2 cups baby spinach
1 cup thin-sliced shiitake mushrooms
1 zucchini, julienned
4 ounces boneless beef short ribs, sliced very thinly
6 ounces Korean vermicelli (cellophane noodles)
4 quarts water
2 tablespoons soy sauce
1 teaspoon sugar
1 teaspoon sesame oil
1 teaspoon sesame seeds
Directions
Heat oil in a nonstick pan over high heat; add carrots, season with salt and pepper, and sauté until slightly softened, about 2 minutes. Transfer carrots to a large bowl. Repeat sauté process with spinach, mushrooms, and zucchini, respectively.
Sauté beef in the remaining oil until browned completely, about 3 minutes; transfer to a cutting board and slice into thin slicers approximately the size of the vegetables.
Bring water to a rolling boil in a large pot. Cook vermicelli at a boil until soft and stretchy, about 6 minutes; drain.
Toss noodles with the vegetables in the bowl. Stir soy sauce, sugar, and sesame oil together in a small bowl to dissolve the sugar; pour over the noodles and vegetables and toss to coat.
Divide noodles and vegetables between four bowls; garnish with sesame seeds to serve.
Tip: Prepare ingredients ahead of time and reserve in the refrigerator to help save time in planning healthy meals for the week! You can purchase the Korean vermicelli noodles at Asian Markets or online.