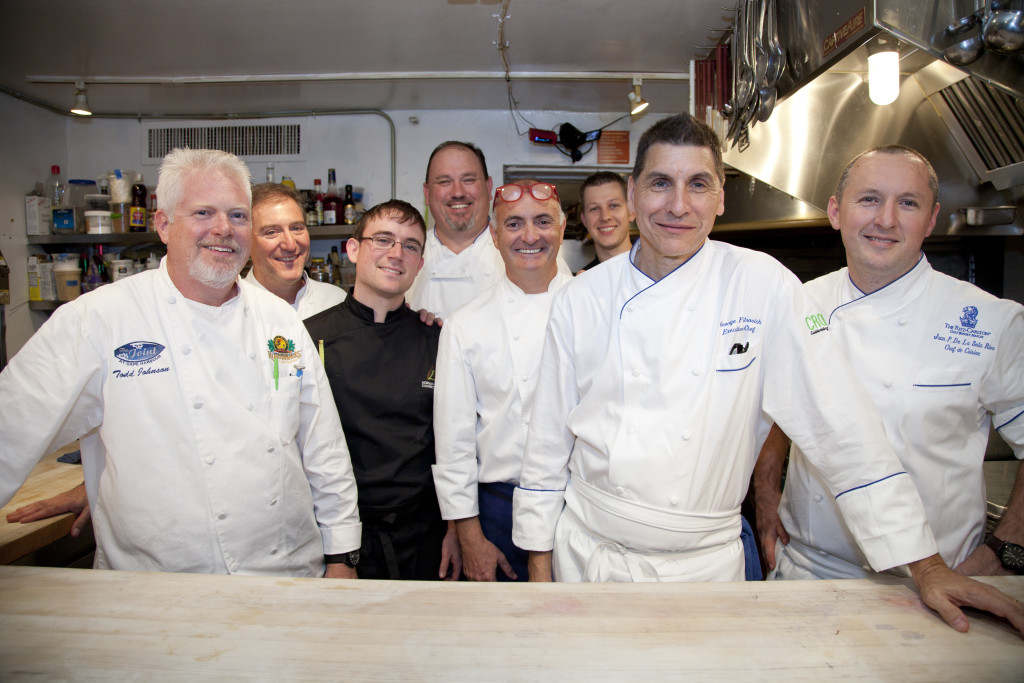 I'm happy to be celebrating the end of my second year working as a photographer for the James Beard Foundation and I'll hopefully be back from taking a year long hiatus from this blog. You could say I spent the last year and a half brushing up my photography and eating skills at the James Beard House. So going forward I promise to post more often and you can surely bet the food photos will be spectacular. I hope you're ready to feast with your eyes.
Here's the menu of the recent Coastal Florida Feast event that took place yesterday, October 2, 2015.
Hors d'oeuvre

Rosy Tomorrows Heritage Farm Chicken Kromeskie > Chicken Pâté with Crispy Skin and Port Gelée
Florida Spiny Lobsters with Foie Gras and Murray River Salt Macaron
Sesame Cones with Red Wattle Pork Rillettes and Mascarpone Mousse
Florida Red Shrimp Spaghetti with Red Lettuce Purée and Sarasota Mote Sturgeon Caviar
MAURITSON ROCKPILE ROSÉ 2013
SWFL LYCHEE FIZZ > LYCHEE-INFUSED FINLANDIA VODKA

Dinner

Pan-Seared Black Grouper with Rosy Tomorrows Heritage Farm Everglades Tomatoes, Crispy Oyster, and Conch–Orange Butter
MAURITSON SAUVIGNON BLANC 2013
Free-Range Chicken–Stuffed Pine Island Octopus Ink Ravioli with White Truffles, Homemade Ricotta, Venus Clam Ragù, and Liquid Egg Yolk
CHATEAU MONTELENA CHARDONNAY 2012
Rosy Tomorrows Heritage Farm Red Wattle Pig Trio > Miso Belly with Radish d'Avignon, Mint Marigold–Tenderloin Saltimbocca, and Confit Shoulder with Butternut Squash
DOMAINE SERENE EVENSTAD RESERVE PINOT NOIR 2011
Jackman Wagyu Beef Cheeks with Barbecued Hearts of Palm, Charred Corn Cloud Esquites, Boniato, and Preserved Cabbage Leaves
CAL BLANCA TORO TEMPRANILLO 2011
Chilled Florida Strawberry Consommé with Crème Fraîche Panna Cotta and Lemon Basil Macaron Glacé
Bittersweet Chocolate and Tropical Experience
TENUTA DELL'ORNELLAIA LE SERRE NUOVE BOLGHERI 2012
I've graduated to eating this kind of food, because about a year ago I would've finished each and every bite. I'm a little older and wiser now- taking advise from the Matre 'D who's advised me to never finish eating this type of gourmet food. It is called a tasting menu for a reason.
I also made a bit of an err last night. One of the chefs, Fabrizio Aielli offered me a lobster macaron and I foolishly blurted out "No thanks, I've already had two of them". I'm such a ditz. I can't believe I said that. It's like the time Daniel Boulud asked me if I wanted to be a chef or a journalist and I answered "Neither…I want to produce videos". Well he pretty much black listed me right then, and hopefully Chef Fabrizio is more forgiving of my poor choice of words and rude mannerisms.
The lesson of the day is: "If a chef offers you something to eat in the kitchen he's cooking in, gracefully accept it and eat it!"
Here are the drool worthy photographs of the food from last nights adventure: