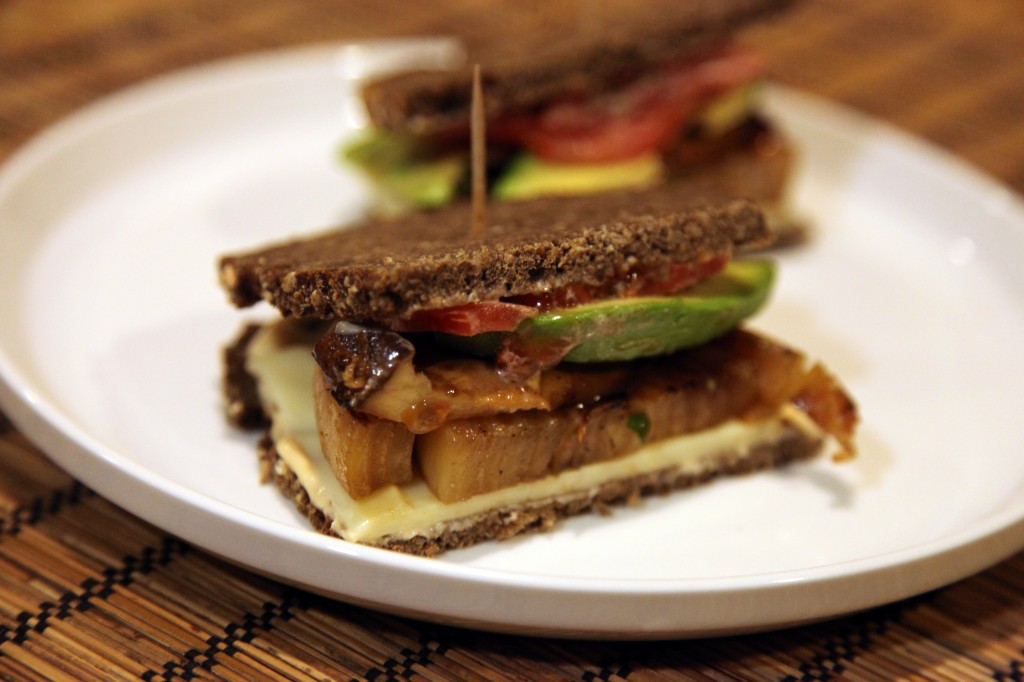 Fire up the grill (or the grill pan) and whip up these spicy vegetarian sandwiches for an easy lunch or light dinner.
Korean Grilled Vegetable Sandwich 
Serves 1
Ingredients
1 oyster mushroom, thinly sliced lengthwise
1/2 white onion, sliced into 1/2-inch pieces
2 tablespoons soy sauce
1 tablespoon brown sugar
1 teaspoon sesame oil
1 garlic clove, minced
1 teaspoon ginger, minced
Oil or cooking spray for grill
2 tablespoons mayo (regular or vegan)
2 teaspoons liquid from jar of kimchi
Salt and pepper to taste
2 slices pumpernickel rye bread
2 slices tomato
1/4 avocado, sliced
1 slice fontina, havarti or soy cheese
Directions
1. Preheat grill. Combine soy sauce, brown sugar, sesame oil, garlic and ginger in a small mixing bowl and toss with onions and mushrooms.
2. Coat the grill with foil, lightly greased with oil or cooking spray. On medium heat, cook onions and mushrooms, turning once, until caramelized on each side, about 6-8 minutes for the onions and 3-4 minutes for the mushrooms. Remove from heat and set aside.
3. In a small mixing bowl, combine mayo, kimchi liquid and mix well. Season to taste with salt and pepper.
4. Apply mayo on both pieces of pumpernickel and rye bread, layer cheese at the bottom, add grilled vegetables, tomatoes, and top with avocado.