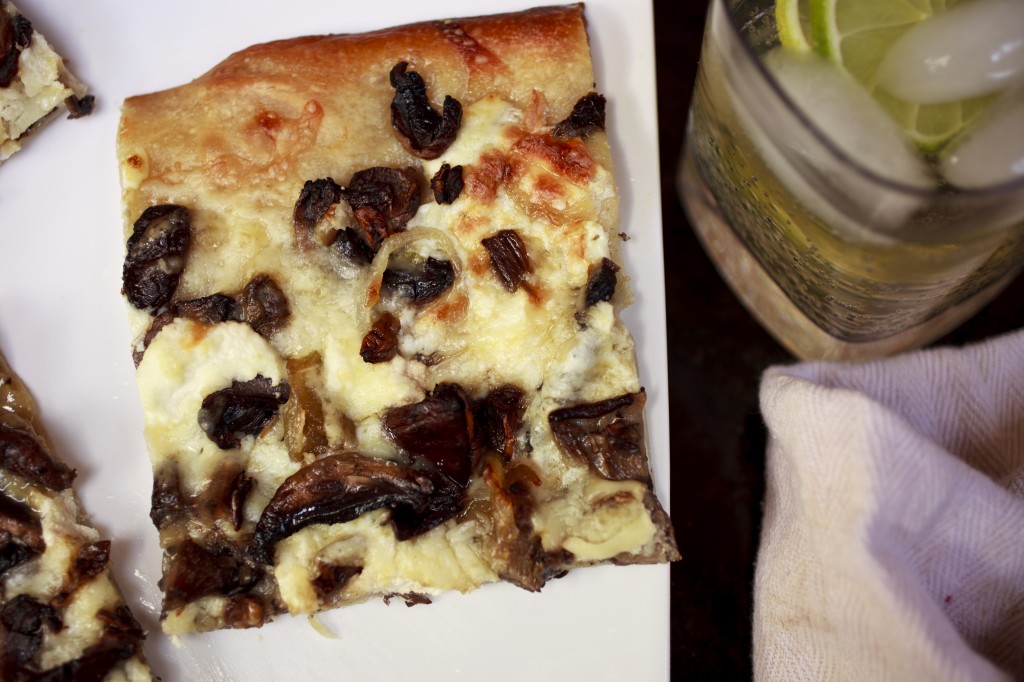 Inspired by the recent bout of cold weather, I thought about all the preserved ingredients (namely, dried mushrooms) coming our way. With three kinds of mushrooms and four kinds cheese, I managed to bake off a little pizza I'm rather proud of.
Pair it with iced or green tea, or go with a nice cocktail instead. Here's a great pizza recipe for those of you who love rustic, creamy and mushroomy pizza.
Tri-Mushroom and 4 Cheese Pizza
Yields one large pie
Ingredients
1 Pound Pizza dough (frozen or fresh)
¼ cup extra virgin olive oil
¼ cup dried porcini mushrooms (torn into small pieces and soaked in water for 30 minutes then strained)
½ cup dried shitake mushrooms (same as above)
1 cup white button mushrooms (sliced)
1 cup of chippolini onions, sliced
¼ cup fresh ricotta cheese
¼ cup grated gruyere cheese (aged 10 months)
¼ cup grated gruyere cheese (aged over 12 months)
¼ cup fresh mozzarella cheese, sliced and torn
Directions
In a medium saute pan, heat 2 tablespoons of olive oil and place onions, add salt and allow them to carmelize in high heat for about 3 minutes. Sitr frequently to distribute heat and ensure even cooking. Remove from heat and set aside. Use the same pan, add two more tablespoons of olive oil and place white button mushrooms. Sprinkle a pinch of salt and cook for about 2-3 minutes on high heat until mushrooms are browned. Stir in porcini and shitake mushrooms. The liquid from these two beauties should give you enough moisture to deglaze the pan. Continue cooking for about 2 more minutes, add a dash of salt, remove from heat and set aside.
Prepare pizza dough on a greased baking sheet and stretch your dough to your hearts desire. Or you can follow my simple pizza stretching dough instructions here (from Mediterrenean pizza recipe).
Assemble your toppings! Cheese first, starting with the smoothest (ricotta), add mozzarella and top with two varieties of gruyere. Add mushrooms and onions.
Bake in a preheated oven at 375 degrees for about 15 minutes. Remove, slice, serve.